Electrical agricultural vehicles are gaining traction in all forms of plant production. Large scale thousand-acre farms are slowly testing electric tractors, and industry giants like John Deere have released public statements detailing their expectations for electric vehicles to define the future of agriculture. Kubota, a Japanese based original equipment manufacturer, revealed an AI-powered, fully electric "Dream Tractor" in 2020 that aims to alleviate the shortage of agricultural workers in Japan. For professional greenhouse growers and property managers, you don't need a tractor, but you may find yourself needing an upgrade to how you manage your plant life.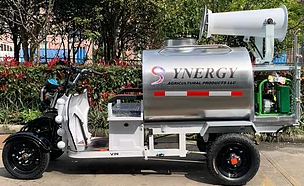 While most of the attention for electrical agricultural vehicles, henceforth referred to as EAVs, is focused on tractors and heavy farm equipment, misters, dump trucks, and 4-wheel range vehicles are also turning electric. All types of EAVs, from large tractors to small trucks, typically offer lower costs of ownership than traditional gas-powered vehicles. Electric vehicles also run quietly, a welcome change from rumbling diesel engines and loud machinery unsuited for extended use in densely populated areas. Synergy EAV offers 2 types of electric work vehicles: dump trucks and multifunction spray vehicles.
The Synergy EAV Dump Truck has a 40–50-mile range and has a load bed rated for 1,400 lbs. It has front and rear hydraulic disk brakes that can be used on streets and off road. It also has LED headlights and turn signals for when you're working in low visibility. Optional lithium batteries can be used to extend the 40–50-mile range of the Synergy EAV Dump Truck.
The Synergy EAV Multifunction Spray Vehicle is ideal for spreading liquid nutrients, compost tea, and pesticides. It has three spray functions: mist, boom spray, and spot spray. All spray nozzles connect to a 145-gallon stainless steel holding tank. The boom sprayer can be adjusted to horizontal and vertical positions, while the row mister is perfect for hedges, tree lines, vineyards, and hemp crops. All sprays can be controlled at a distance with a handheld remote. The EAV is tested for a 40–50-mile operating range, which can be further extended with lithium batteries.
Visit SynergyEAV.com or email info@synergyagpro.com for pricing, additional hardware specs, and for any questions about the use of EAVs in your operation. Be part of a greener, cleaner future today by investing in a Synergy EAV.
Related Articles & Free Email Newsletter
How to Grow Effectively in a Greenhouse Year-Round
Rainwater Collections Helps Your Plants and the Environment
The Value of Fall Cleaning in the Greenhouse