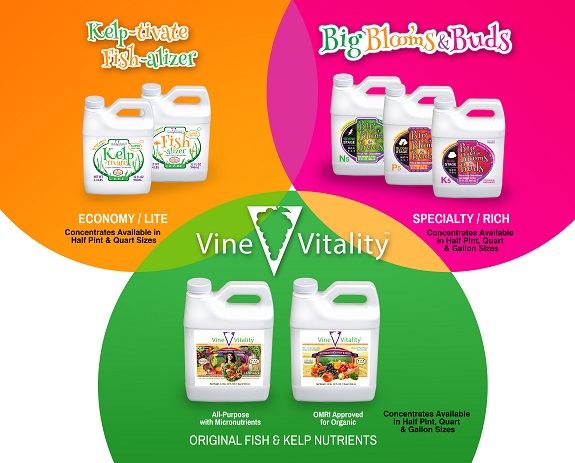 Vine Vitality, a producer of liquid nutrient concentrates made from freshwater fish and ocean kelp is expanding their line of offerings to give customers exactly what they need to enhance their plant growth. These safe and natural blends maximize nutrient absorption, accelerate root growth, and increase fruit significantly, all in an eco-friendly way. It is no secret that the combination of fish and kelp enhances microbial activity and helps establish a living soil, resulting in higher yields and improved harvest quality. Additionally, since these concentrates mix at 1-2oz. per gallon of water, they go a long way.
The original product line includes an All-Purpose formula (NPK = 4-4-0.5) with additional micronutrients for a full range of applications, including vineyards and orchards. The OMRI formula (NPK = 2-5-0.2) is a blend made to appeal to "official" organic growers.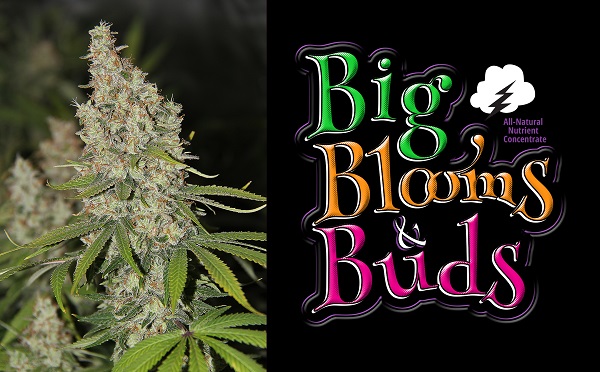 The Big Blooms & Buds line has been developed specifically for cannabis growers who want impressive results without the dangers of chemicals. Many users have remarked on the improved smell, taste and potency these concentrates produce when compared to using synthetic nutrients. This 3-part system focuses on a rich macronutrient emphasis to leverage minimum and maximum dosing while allowing ease of transition between each growing stage and with no flushing stages required:
Step 1
N5 Fresh Fish Liquid Concentrate Grow State – Nitrogen Emphasis (NPK = 5-4-2) accelerates growth through the vegetative stage of early development by promoting root growth. N5 consists of freshwater fish from the Great Lakes, where hydrolyzed processing ensures the most complete range of nutrients and minerals.
Step 2
P5 Fish & Kelp Liquid Concentrate Bloom State – Phosphorous Emphasis (NPK = 2-5-1) transitions your plants from the vegetative stage to the early blooming stage. It is ideally balanced to invigorate your plants at all growing stages. P5 contains a blend of enriched fish and kelp.
Step 3
K5 Ocean Kelp Liquid Concentrate Bud State – Potassium Emphasis (NPK = 0-0-5) has been developed especially for flowering and bud cultivation. Big Blooms & Buds K5 allows growers to feed their plants only that which enhances flowering and fruiting. This formula provides one of the highest percentage concentrations of natural potassium available, derived from ocean enriched kelp.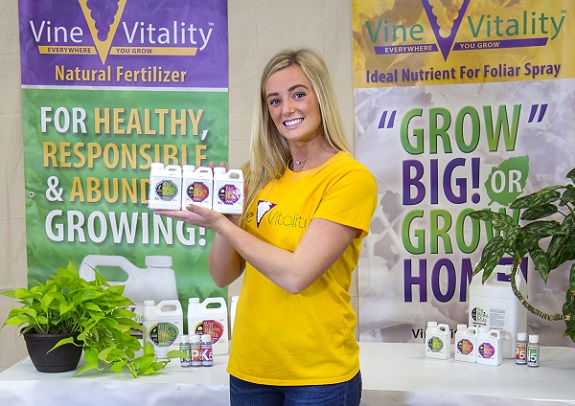 The Fish-alizer (NPK = 2-2-0.2) and Kelp-tivate (NPK = 0-0-2) lines were created to offer a lighter version of these nutrients at a great value. Customers in this space need to be cautious as there are numerous products with next to no nutrient value. These low-level products frequently hide the N-P-K ratios or provide such low ratios (like 0-0-0.15) that they are basically just selling very expensive bottled water. In many cases the Fish-alizer and Kelp-tivate products offer 2-5 times the nutrients for the same price as these low ratio products.
Within this product line you can find the right fit for your garden or grow with the peace of mind that you are not spreading or ingesting hazardous toxins. This company applauds the shift that is occurring toward all-natural nutrients in all growing fields and desires to be a catalyst in that mission.
Products are available at VineVitality.com or on Amazon.
Related Articles & Free Email Newsletter
Beneficial Microorganism Overview
How to Get Started with Organic Gardening in a Greenhouse
The Benefits of a Raised Bed Garden