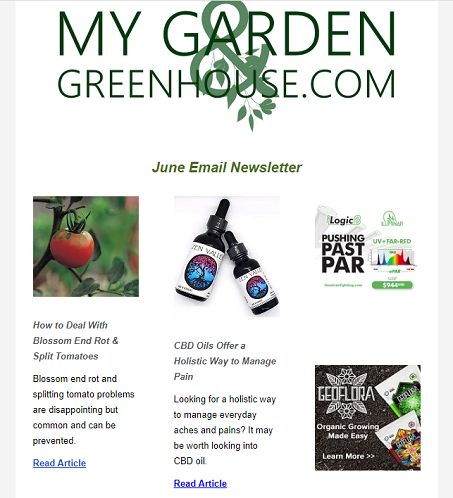 The MyGardenAndGreenhouse.com Monthly Email Newsletter contains articles and product information that will help you grow better in a greenhouse and outside of one too! Click Click Here to Sign Up for our Free Newsletter.
Advertising in the MyGardenAndGreenhouse.com Email Newsletter offers an inexpensive way to reach over 5,700 qualified readers each month.
Click Here to Review Garden & Greenhouse Monthly Email Newsletter
Click Here to Review My Garden & Greenhouse Special Deals Email Newsletter
Download the MyGardenAndGreenhouse.com Advertising Deck for Email Newsletter Advertising Rates
Click Here to Learn About Advertising on MyGardenAndGreenhouse.com
For more information and to inquire about advertising call 563.557.7571 or email Robin@MyGardenAndGreenhouse.com.