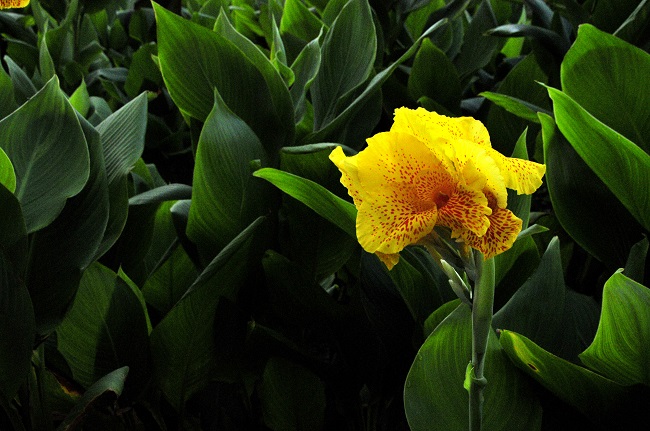 Cannas are herbaceous perennials closely related to gingers, bananas, heliconias, and birds of paradise. Cannas do well over most of the U.S. provided there is plenty of summer heat. Cannas grow from rhizomes (bulbs) and are easy to plant and grow. Their flowers come in a wide variety of colors including red, orange, yellow, pink and fuchsia. They have long, heliconia or banana-like leaves giving them a very tropical look.
Cannas should be treated like other tropical plants; plant them in spring after the chance of a last frost and dig them up before first hard freeze in fall. The bulbs can be stored over winter in a cool dry place similar to caladiums, dahlias, gladioli, or other bulbs. Of course in Zones 10 and higher they will thrive and flower all year. In Zones 8 and 9, leaves will freeze back but the "bulb" will overwinter safely in ground if the soil is well-drained.
Cannas do best in full sun but will also do nicely in partial shade. Because of their succulent leaves, Cannas can be attractive to moths and butterflies. The resulting caterpillars can be picked off or controlled with safe insecticide treatments. Cannas are easy to keep pristine looking by removing spent flowers and seedpods and trimming unsightly leaves. Also bees, butterflies, moths and hummingbirds are attracted to Canna flowers.
Related Articles & Free Email Newsletter
A Secret Bed Building and Potting Soil Recipe
5 Indoor Plants that Require No Time or Energy
Finding the Correct Propagation Technique for Landscape Plants