Description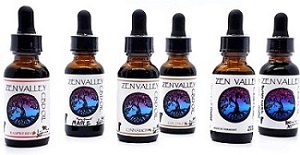 Relax with Zen Valley CBD oils. CBD oil is the first step to defining what a balanced life means. Using the included measured dropper, you can place 1-2mL's (or other desired dose) under your tongue or use on food or any beverage of your choice.  CBD oil works best if used daily.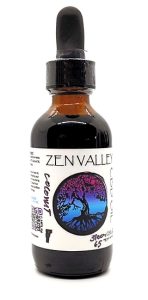 Zen Valley CBD sets the standard for quality craft CBD and is sourced from hemp grown at Vermont farms and extracted at their facility with their own equipment to ensure top quality CBD in every drop. Using Organic Coconut oil as a carrier oil in a natural extraction process, this full-spectrum CBD preserves all existing cannabinoids to provide a well-balanced supplement. Zen Valley's small-batch processing ensures the best quality CBD in every bottle. The result is a purely holistic CBD oil that fits perfectly into your balanced lifestyle.
Zen Valley full-spectrum CBD oil is crafted using the lipid extraction method. This craft extraction process naturally infuses all terpenes and cannabinoids into our organic coconut oil without the use of any harsh chemicals.
The result is a pure CBD oil that sets the standard of quality in holistic healing. "Refine Yourself." (Contains less than 0.3% THC)
Are you New to Full-Spectrum CBD Oils? Read this article on how CBD oils offer a holistic way to help manage pain.
3900MG CBD – 2oz bottle
65MG/serving
Available Flavors: Raspberry, Coconut, Wildberry, Earthy (Unflavored)
Serving size =1mL
Provided labeled dropper allows for flexible dosing
Weight 4.5oz
Size: 4.5×1.5×1.5
Product Use
Not for use during pregnancy or lactation. Consult your physician if you have a medical condition or take prescription drugs.
Disclaimer
This product has not been evaluated or approved by the FDA. It is not intended to treat, cure, diagnose, or prevent any disease.
All ZEN VALLEY CBD products contain up to .3% THC. It is not recommended to use our products if you are subject to Uranalysis Testing or pregnant.
Questions? Call 563.557.7571 or email products@mygardenandgreenhouse.com. Not Sure How Much to Take? Check Out Zen Valley's Dosage Guide.