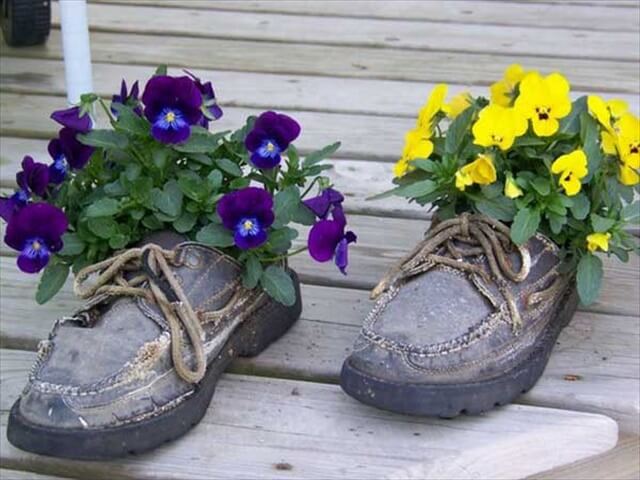 One thing that most gardeners have in common is that they can never have too many plants. There's always one more plant in the garden center that catches your eye and begs to come home with you. But that can lead to the problem of where to plant it.
If you've run out of space in your flowerbeds and all your flowerpots are already occupied, think outside the pot, and give your plant a fun and unique planter. There are many common household items that can easily be converted into planters with a little imagination and the addition of a drainage hole or two.
Old shoes make great planters for small plants. If you're a hiker and you've worn out another pair of hiking boots, don't toss them out. Just drill a couple holes in the soles and fill the boots with potting mix. Leather boots will last for years as planters and give new life to your comfy old boots. Just about any old shoe can be a home for small plants, even baby shoes and are particularly cute when planted with hens n' chicks or some thyme.
If you have some old bricks lying around, they can be stacked into a box shape and filled with soil for an instant brick planter. A child's wagon can be a lovely planter for several plants or fill the basket on an old bicycle with trailing plants and park it in the midst of a flowerbed.
Old wheelbarrows, wooden crates, washtubs, and all sorts of baskets make great planters too. It's fun to incorporate something from a favorite hobby or collection as a planter too. If you love to cook, how about using a worn-out pan to plant some culinary herbs. If you work in the medical field, an old bedpan might make a humorous planter and a conversation piece in your garden.
Prospective planters that have too many gaps in them, such as a wire egg basket, can be lined with moss before adding soil.
Look around your house for interesting objects that can be used as planters for small plants this spring. Flea markets and garage sales are also good places to find treasure that can be converted to planters. With a little imagination, you can have a beautiful and unique garden of potted plants.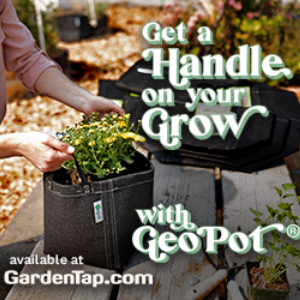 Mike McGroarty is the owner of McGroarty Enterprises and the author of several books. You can visit his website at FreePlants.com  and read his blog at MikeBackYardNursery.com.
Related Articles & Free Email Newsletter Sign Up
How to Create a Strawberry Pot Container Garden
How to Create a Year-Round Basil Garden in Your Kitchen
How to Plan a Small Space Urban Garden
Shop for High Quality CBD Products with No THC
Subscribe to our Free Email Newsletter