Brought to you by ARBICO Organics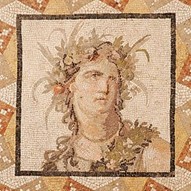 Wreaths are arguably the most ubiquitous of all Christmas decorations. They are also the most versatile and are more than just Christmas décor – they can be enjoyed in a seemingly endless number of ways all year long.
People have made wreaths a part of their lives for thousands of years. While it is impossible to know who the first person to create a wreath was, they were widely in use in ancient Greece and Rome. They were hung on doors to celebrate a military victory and worn on the head to denote status and occupation. Early Christians appropriated the wreath as a symbol of Christ; the circular shape illustrates the immortality Christianity promises. From this, the Christmas wreath evolved. If you want to know more, here's a nice little article that tells the history of wreaths.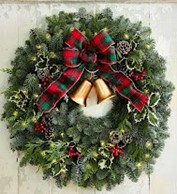 Regardless of their origin, wreaths are now a set symbol for the Christmas holiday. The season would just not be the same without them. Traditional Christmas wreaths are a delight, but so are the many variations of wreaths that the ever-creative human brain can muster. They can be made of virtually any material and can send a specific message or no message at all.
Traditional Christmas
Whether adorned with evergreens, ornaments, ribbons or bows, you know it's Christmas when you see these wreaths. Most are lush with greens and packed with color and texture, but they work just as well with only a few elements.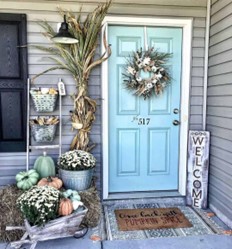 Permanent Décor
Permanent wreaths can become a focal point for the curb appeal of a home. These types of wreaths transcend any holiday and carry no particularly deep symbolism. Instead, they are a carefully considered addition to a home's design. And they really work.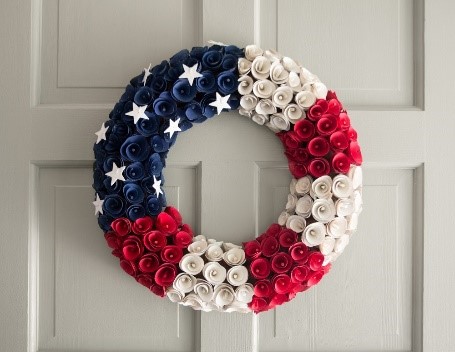 Year-Round Holidays
Wreaths are a thing for any holiday. Easter calls for eggs, of course, and the flowers of spring and summer are perfect for displaying in any design. But, why not a red, white, and blue wreath for the 4th of July? And there are so many fun ways to do a Halloween wreath or Autumn-themed wreath.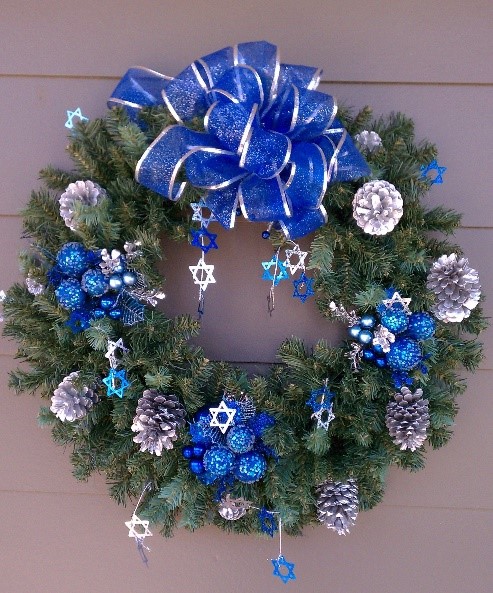 Hanukkah
Christmas does not hold a monopoly on religious wreaths. There are also beautiful wreaths to adorn the homes of those who celebrate Hanukkah at this time of year. Like Christmas wreaths, these designs are generally driven by traditional colors, religious symbols, and personal aesthetics.
Place-Specific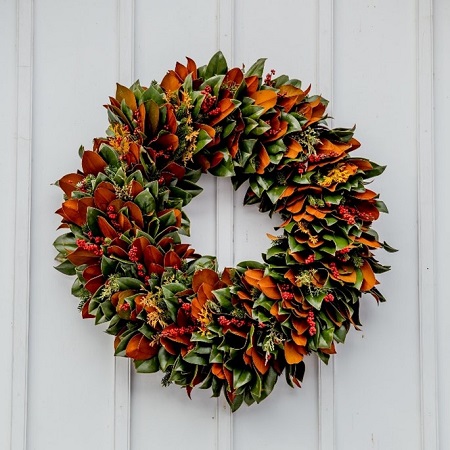 Some wreaths send a quiet message that celebrates where they are hung. This beautiful example on the right is made with magnolia leaves and can be found in the Old City Cemetery in Lynchburg, VA. You can't get much more old-school Southern than magnolias and Virginia. wreath.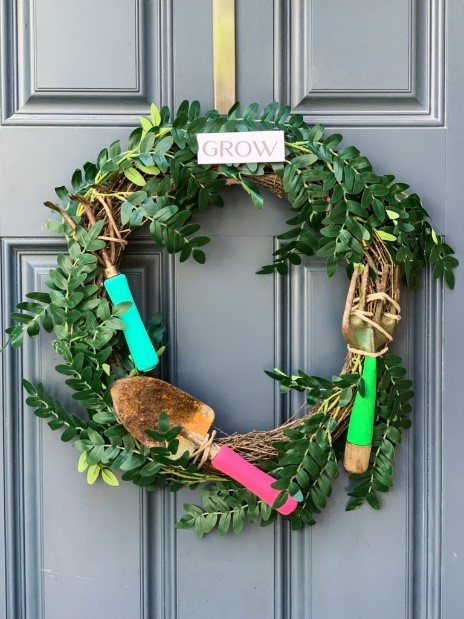 Gardening
As a gardener, you could use a wreath to display what you've grown (flowers, fruit or vegetables). Or you could make a fun wreath full of the tools of the trade. Either would look super-cute on a garden gate or shed door. If you have another hobby, this will work as well.
Arts & Crafts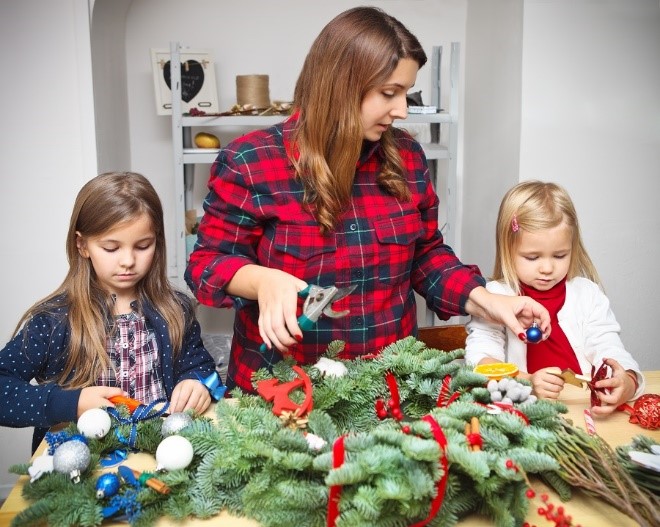 Creating wreaths as a group activity is popular with many people this time of year. Whether that means you and the kids or an adult gathering, it's fun either way. Just grab some basic elements and gather the group (holiday cocktails recommended for adults). I have recently become intrigued with ice wreaths. They would make an ideal crafting project for children. It would keep them busy and out of the way for a while, although the water part might need supervision. I wish that we had colder weather here in Southern Arizona so that I could create some of these that would last. Here's how to make them.
Miscellaneous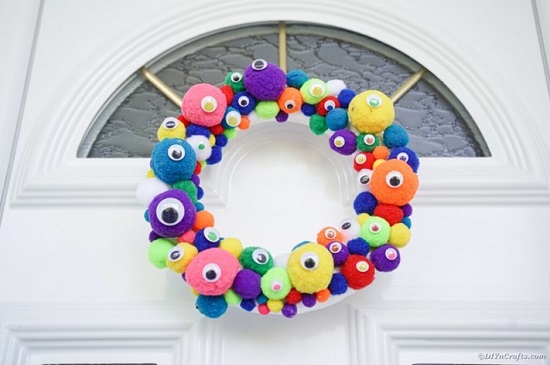 Here are some of the most out-of-the-box wreath designs I've come across. Whether building a wreath from computer components, or antlers, or abstract designs, these creators have given us something exceptional.
If you want to see more wreath designs (some of which are quite unique), Etsy has pages and pages of them, starting here. If you are more interested in creating an unusual wreath yourself, here's a link to 65 DIY wreath ideas that should fit that bill. If you want to make a wreath but don't want to figure it all out yourself, here's a link to a company that sells wreath kits.
Have yourself a wonderful holiday season!
Pam Couture is the Lead Content Writer at ARBICO Organics. She lives in Tucson, Arizona, where she is surrounded by family, friends, and nature. ARBICO Organics can be contacted at 800.827.2847 and you can visit their website at ARBICO-Organics.com.
Related Articles & Free Email Newsletter Sign Up
How to Care for a Live Balled in Burlap Christmas Tree
How to Grow Figs in a Cold Climate
How to Make Poinsettias Rebloom