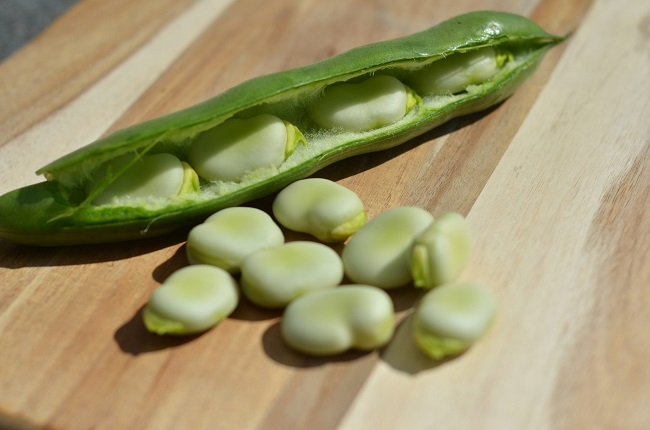 April's harvest, fava beans, is a great multipurpose crop; it's good for the dirt, good for the belly and the flowers are pretty too. Fava beans, which are also called broad beans have been found in Mediterranean, Egyptian and Arabic archaeological sites dating back thousands of years, proving that these beans have been valued for a long time.
Grown as green cover, fava bean plants help hold in soil between growing seasons and can be suited to overwintering as they are cold tolerant down to around 15F. For food crops, it's good to plant them as soon as the soil can be worked in the late winter/early spring. Fava beans are also nitrogen fixers, which help to naturally enrich soil and they loosen soil as well, making them a great rehab crop for a patch of ground new to gardening. Thin the plantings by turning under or pulling up the plants at about 4 inches in height. Fava bean plants grow to about waist height, and don't need to be staked unless they're in a windy area. After a few sets of blooms develop, it's common to snap off tops of plants to encourage pod development. Favas tend to require a lot of plants and lots of pods for relatively few beans but that makes them more of a treasure.
Saving fava seeds can be difficult, as the seeds are generally only viable for one year. To save seeds or use the beans dry, let the pods stay on the plant until they're blackened. They'll get slimy and gross so don't be alarmed. Some beans will naturally end up in the dirt and you can push these beans into the ground for more beans or cover in the next season. Bigger, older plants need to be composted at the end of the season as they get woody and don't break down in the garden as easily as the smaller plants. A relatively weak root system makes old plants easy to remove but use care when working in the ground around growing plants. Pods for fresh use should be harvested once they're plump; the pods will also be a little shiny. Commercial/hybrid varieties tend to produce beans all at once, while heirloom varieties will produce over a period of time. Whichever type you plant, harvest can be extended, by staggering plantings, as always.
Favas are labor intensive, which is probably why they are less popular than they should be. A little group effort would make shelling more pleasant, either in the kitchen or on a porch, if helping hands are available. Favas need to be removed from pod to access the bean and the pods can be discarded or composted. Picky eaters may prefer beans that have been skinned if the beans are larger than lima beans, but it's not strictly necessary. The skin is a lighter colored green casing around the beans. To peel, blanch beans briefly in boiling water, then shock them with cold water, make a small cut in the skin and pop the bean out. Steam or lightly boil the fresh beans and serve with butter, salt, and pepper to really enjoy the taste. To preserve the beans for food use, they can be dried or frozen; blanch or otherwise cook before freezing. Dried beans can be used as soup beans or for a fava dip, like hummus.
Prized by the Egyptians, from antiquity to modern day, Favas are simply known in Arabic as "foul" or "fool" and can be found in ancient tombs. An Egyptian recipe, enjoyed for breakfast or snack honors this connection.
Fool Medemmas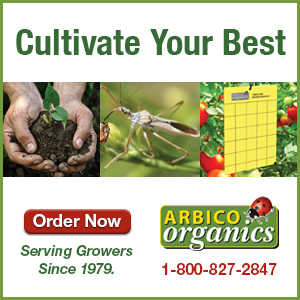 1.5 cups blanched fava beans
1 sweet onion, chopped
1 tomato, diced
1-1/2 Tbs olive oil
1 teaspoon cumin powder
1/4 cup parsley, chopped
Juice of 2 lemons
Salt, pepper, and red chili pepper to taste

Pour the beans into a pot with enough water to barely cover and bring to a boil. Mix them well and add the remaining ingredients. Bring to a boil again, then reduce to medium heat and cook for about 5 minutes. Leave beans whole, or mash and enjoy with pita or crusty bread. Serves 4.
Amy Ambrosius is a writer and budding gardener living deep in the heart of Texas with her family.
Related Articles & Free Email Newsletter Sign Up
Garlic is a Must for the Cook's Garden
How to Grow Tomatoes in Containers
Tips for Growing Blemish Free Apples
Subscribe to our Free Email Newsletter