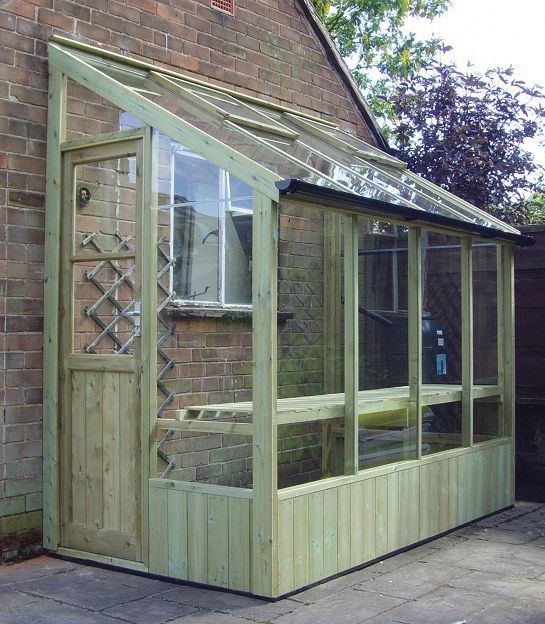 When considering a greenhouse one of the initial considerations is whether you want a lean-to or freestanding configuration. A freestanding greenhouse is just what it sounds like – a structure in your yard complete in itself. It will have 2 gable ends (ends with a peak) and 2 sidewalls with a roof.
A lean-to greenhouse will typically have 2 gable ends and a front wall with a roof. The last wall is the wall of your structure – a garage, your house, a shed. Some will be built with the L shape space of your house. These will only have one gable end with the other gable end being your house wall. There will typically be a door on one of the gable ends, but there doesn't have to be one. Installing a door on the front wall (the wall parallel to your structure) will require some modifications.
There is also a third configuration known as a gable end attached greenhouse. This is simply a freestanding greenhouse with one of the gable ends removed. Your house or building wall will become the second gable end. This typically is done on 2 story houses or gable ends of houses.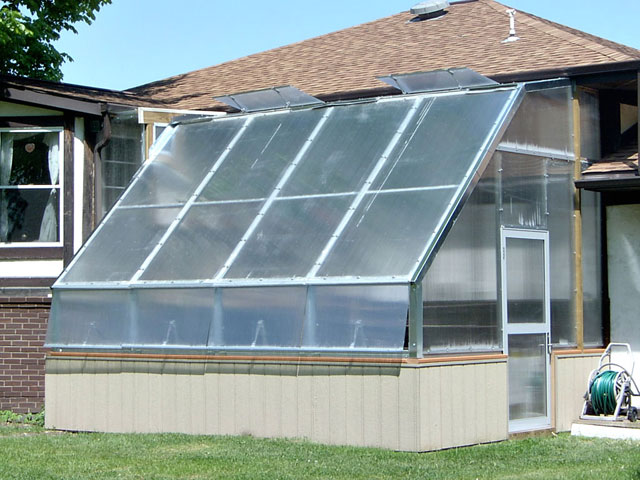 The best asset of a lean-to greenhouse is the close proximity of utilities. Most of us have water, electric and/or natural gas available right from the outside wall of our house. If your house wall is constructed of brick or another material you will enjoy the added benefit of it retaining heat.
What could be better than walking right out of your house into the greenhouse and picking fresh veggies or herbs for tonight's dinner? Many homeowners will also make a small seating area to enjoy on cold winter days.
The biggest downfall of a lean-to greenhouse is the fact that you must have a sufficient height at the back wall. Most greenhouse companies will refer to this as the attaching height. The other measurements to consider are the width and length. The width – also referred to as the projection – will be measured from your house at a 90 degree angle. The length measurement runs parallel to your house. The attaching height will go up proportionately with the width. The distance the roof pitches up is referred to as slope.

Most lean-to greenhouses will vary from a 2 1/2 on 12 roof pitch on up with 5 on 12 being the most common. What this means is that for every foot you go away from your house the roof will go up 5″ in height. For example, if you are looking at a 10′ wide lean-to greenhouse with a 5 on 12 roof pitch and a front wall height of 5′ 6″ you will have an approximate attaching height of 5′ 6″ plus 5 x 10 or 9′ 8″. You will usually have to add a couple of inches for the top rails of the greenhouse to get the exact attaching height.
If you are considering a lean-to greenhouse the first thing you should look at is the attaching height. While there are some modifications or customizations available with some models, there are still minimum slope requirements for snow and water shedding. An attached greenhouse is a great way to extend your growing season, or just to sit in and enjoy.
Tammy Wylie has been selling and installing greenhouses since 1993. She currently owns and operates two greenhouses, an 8 x 12 is used to overwinter plants and an 18 x 24 greenhouse is used to start vegetables, herbs and annual flowers. She also tests new products in this greenhouse and evaluates them for efficiency and user friendliness. She is the owner of Advance Greenhouses AdvanceGreenhouses.com.
Related Articles
Inexpensive Tools and Materials Every Small Greenhouse Grower Should Have
The Good and Bad of Glass Greenhouses
Understanding Greenhouse Materials