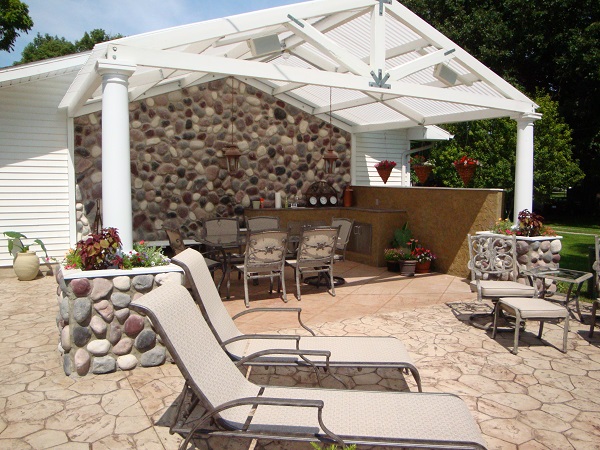 One of the spring/summer projects that crops up time and again in discussions with customers is installing some type of covering on a patio, sunroom, or pergola. Greenhouse coverings are a great option for this purpose. They come in varying degrees of transparency and provide an attractive and durable way to let in natural sunlight. They almost eliminate unhealthy UV rays so you can safely sit underneath them without worrying about harming your skin. When it comes to talking with people about the options available to them for covering their structure, I quickly highlight two materials: Solexx and polycarbonate.
Solexx and polycarbonate are both excellent materials for glazing a greenhouse structure, patio, sunroom, conservatory, or anything else. Both materials are impact resistant, shatter proof material. Both are treated with anti-UV inhibitors to help protect against the harsh effects of the sun. Both come in a multi-wall (meaning there are vertical "ribs" running through the panels that create air chambers or flutes between the inner and outer layers of plastic) configuration, and polycarbonate is also available in single layer corrugated style. However, there are some important differences to keep in mind when comparing the two.
Solexx is a flexible polyethylene panel and comes only in a translucent whiteish color. This is because it is made to diffuse light, so shadowing isn't as strong underneath the material. As a result of this diffusion, Solexx has about a 75% light transmission rate (meaning 75% of light passes through, or it provides 25% shade). Also, it comes only in 3.5mm and 5mm thicknesses (for reference, 5mm is roughly 1/4 inch). Solexx comes either in a roll which you would purchase by the lineal foot, or in pre-cut panels of about 8 and 12 feet long. Several rolls can be purchased instead of one big roll if necessary. The rolls and the panels can both be 49.5″ wide, and additionally the panels can be 41.5″ wide. The material is easily cut with a fine-toothed plywood blade on a circular saw, and may even be cut with snips, scissors, or blades. It has an 8-year warranty against discoloration and degradation as long as installed properly. Realistically you can expect 20+years of life from the material.
One distinct advantage Solexx has over polycarbonate is the fact that it can be rolled up and shipped standard ground service. The chemistry of the plastic makes it more flexible than polycarbonate, thus it is possible to roll the material. This reduces the shipping charges incurred, especially when purchasing a small amount of material.
Polycarbonate is much more versatile in regard to the range of options available, and is known by several brand names including Lexan, Verolite, and Dynaglas. Polycarbonate comes in single wall corrugated panels, twin wall panels in 6, 8, 10mm thicknesses, and triple wall panels of 8 and 16mm thicknesses. There are also numerous other configurations that are less common than those listed. In addition, it is available in clear, gray, and opal (white) coloration. Each of these combinations will yield a different light transmission percentage, from 35-92%.
Polycarbonate is a very common greenhouse covering, typically in 8mm thicknesses (82% light transmission) or 6mm for smaller hobby houses. It is sold in panels either 4′ or 6′ wide and basically any length you need, and polycarbonate is also easily cut with a fine-toothed plywood blade. Polycarbonate is less flexible than Solexx, and as such must be custom crated and shipped on a common carrier truck. This increases shipping costs by a fair margin, especially if you are ordering a small amount. Polycarbonate has a 10year warranty against discoloration and degradation if installed properly and realistically you can also expect 20+years of life from the material.
Both materials would also typically require installation hardware; plastic H and/or U channels for Solexx and an aluminum glazing system for polycarbonate. You will also need screws and other small hardware. Corrugated polycarbonate simply overlaps and as such does not require an additional glazing system.
The primary disadvantage of Solexx compared to polycarbonate, based on discussions with customers, is its limited availability in different colors and thicknesses. Its flexibility can also be a disadvantage in some applications, but an advantage in others.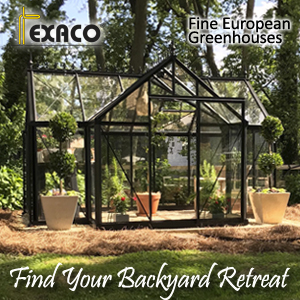 Polycarbonate can be pricy when crating and shipping is included, especially if you're only needing, for example, four 4' x 8' sheets. It can also be a little trickier to work with depending on the application and requires a more extensive set of trim pieces if using multi-wall varieties.
Of course, either material makes and excellent choice depending on the desired application and budget. If you are one of those weekend warriors contemplating such a project this year, make sure you take the time to do proper research and get the material that's right for you.
Drew Landis is Social Networking Coordinator for an online greenhouse retailer.
Related Articles & Free Email Newsletter Sign Up
15 Ways to Make Your Greenhouse More Efficient
Greenhouse Structure and Frame Materials Overview
There is a Different Type of Greenhouse For Every Growing Situation
Shop for High Quality CBD Products with No THC
Subscribe to our Free Email Newsletter