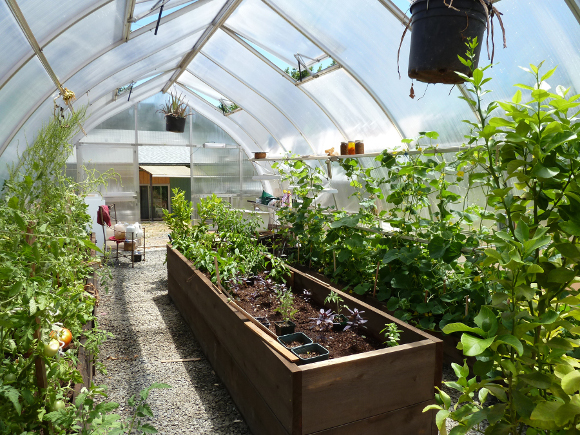 There are many choices a hobbyist faces when they decide to purchase a greenhouse. All greenhouses are essentially designed to extend the growing season and to be a safe haven for plants. However, not all greenhouses are created equally. In fact, purchasing a greenhouse is much like purchasing a vehicle. Even though all vehicles are designed to get you from point A to point B, there are a plethora of choices and varying costs.
Generally speaking, higher quality vehicles with more options are more expensive than a basic, bare-bones vehicle. The same concept holds true with greenhouses. A higher quality greenhouse which lasts longer, provides more options, and is more energy efficient will cost more initially than an entry level hobby greenhouse. When comparing hobby-kit type greenhouses, it is hard to ignore the supremacy of the German RIGA XL greenhouse series.
RIGA XL Greenhouses Distributed by Exaco
German engineering teamed with superb materials has created possibly the best hobby-kit type greenhouse available in the United States. RIGA XL greenhouses are manufactured by the German company Hoklartherm. Hoklartherm has been a leader in international greenhouse manufacturing for over twenty-five years. The US company, Exaco, represents Hoklartherm as its United States distributor for RIGA XL greenhouses. Exaco has over 20 years of excellent customer service experience and is proud to distribute RIGA XL greenhouses along with other quality products. The Exaco staff of greenhouse professionals is available seven days a week to answer any and all questions. The combination of German engineering and high quality components ensures that RIGA XL greenhouses will last longer, provide more options and be more energy efficient that other greenhouses on the market.
Longevity
Heavy duty aluminum is literally the framework for the RIGA XL's longevity. The RIGA XL aluminum profiles are thicker/bigger in diameter and have more channels than the other greenhouses in its class. In other words, the RIGA XL's aluminum framework is much stronger than that of its competitors. One notable difference is how the main uprights attach to the base profiles by sliding into each other. Competitor greenhouses are typically held together by nuts and bolts which commonly come loose over time due to wind pressure. This unique type of construction increases the strength of the framework and increases the greenhouse's overall longevity.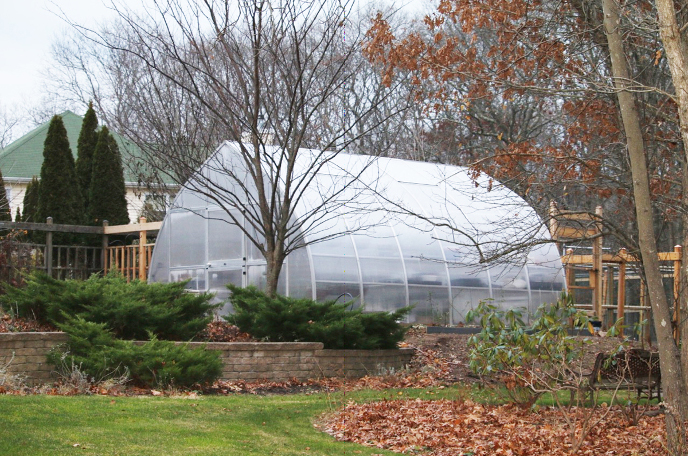 "Quality built" is not just a marketing term used by Hoklartherm and Exaco. The aluminum profiles are backed by a 15 year warranty, which protects the user from any manufacturer's defects. The glazing material is also backed with a 10 year warranty (prorated after five years). Aside from the high quality framing and the 16mm triple wall glazing material, the RIGA XL's longevity can be attributed to other features. These include heavy duty rubber seals used on all the windows, doors and the bottom and top of each of the large side glazing panels.
Options
Due to the multiple options available, the RIGA XL greenhouse series can be built to fulfill virtually any gardener's desired application. First and foremost, the RIGA XL series comes in five size options, varying from 230 square feet to 410 square feet. In fact, the RIGA XL is the largest commercial quality hobby-kit type greenhouse now available in the United States.
There are several anchoring options available with the RIGA XL as well. The RIGA XL may be anchored to a concrete perimeter wall with anchoring bolts. Alternatively, there is a new I-beam "in-ground" foundation profile available for those who prefer not to do any concrete work. This heavy duty I-beam is buried in a trench and backfilled once the greenhouse is erected. This strengthens the greenhouse's wind resistance and is a nice option for growers in high wind areas. If the end user wishes to have more headroom and space for their plants, the greenhouse may also be mounted onto a 20" stem wall that can be made from a variety of materials including brick, cinder blocks, concrete, stucco, or stone to name a few. Exaco has a drop down door kit available to accommodate this customization.
In order to make the internal set-up as efficient and simple as possible, the RIGA XL series comes with many options for customized shelving. This makes it simple for the gardener to optimize the greenhouse space to best fit his or her needs. Other options for year round growing include heating and ventilation systems. There are also many accessory options for the RIGA XL series, including plant hooks, seed trays, misting systems and more.
Energy Efficient
The 16mm triple wall polycarbonate panels provide an almost unheard of 2.0 R-value. This attribute alone can reduce the heating requirements by 40% compared to other greenhouses in the same class. Just think of how much money would be saved if your heating requirements were reduced by 40%. The rubber seals and thick panels make the RIGA XL one of the most energy efficient greenhouses available. Heating a greenhouse is the most significant annual maintenance cost which means finding a greenhouse that can reduce that cost is crucial to establishing long-term return on investment.
Since the RIGA XL can be used year round, you will be able to have more plants inside the greenhouse. More plants and soil mass (i.e. a fuller greenhouse) will retain the daylight heat during winter days to keep the temperature more consistent during the cold nights.
The RIGA XL series is energy efficient when it comes to heating, but what about cooling during the hot summer months? Well, the RIGA XL series comes equipped with automatic roof-vent openers on all roof windows and extra wide dutch barn doors on both the front and rear. If you live in a hotter-than-average climate, the RIGA XL greenhouse can be easily equipped with motorized fans for extra cooling. It should also be mentioned that the roof windows in the RIGA XL are a "tongue and groove" hinge system which spans the full length of the top profile of the roof window. In other words, the top profile sits inside a groove on the roof beam.
Most greenhouses have roof windows with simple hinges which can easily break if the window is left open during strong winds. The RIGA XL solved that problem by sliding the assembled roof window down the groove in the roof beam. This attention to detail is another example of how the RIGA XL series is built to last and is a superior greenhouse for both hobbyists and professional growers.
Which Type of Horticulturist Should Buy a RIGA XL Greenhouse?
The RIGA XL greenhouse is not your typical thin walled, entry level greenhouse. In fact, in many places around the world, greenhouses with 5mm or less glazing material aren't even considered greenhouses, but instead are considered season extenders. This is because the entry level greenhouses with thin walls are not truly designed to be used year round.
A proper "greenhouse" should be a structure that has at least 8mm glazing and is designed to be used in cold weather. In other words, a proper greenhouse will be designed to maintain a comfortable temperature (50-53 degrees F) during the middle of the winter without creating astronomical energy costs for the gardener. This is perhaps the most significant justification for the increased initial cost of thicker walled greenhouses. A high quality greenhouse will initially cost more, but over time the energy savings accrued on heating bills will offset the price difference. Horticulturists who want to grow year round and who also understand how the energy savings over time will surpass the cost of the greenhouse itself should seriously consider an energy efficient greenhouse like the RIGA XL.
There is no doubt about it, RIGA XL greenhouses are designed for more serious gardeners. The RIGA XL series is designed for gardeners who want to start from seed before the winter months are over and who want to harvest vegetables and flowers during the winter months. Many RIGA XL owners are greenhouse gardeners who have experienced entry-level greenhouses and then decided to upgrade to a greenhouse that was more suitable for year round growing.
Roof Strength & Snow Loads
The roof has no "shoulder" or ridge for any snow to accumulate. Due to the aggressive angle of the "onion" shape roofline, it is impossible to measure the RIGA XL's snow load capacity. Snow and debris simply slide down the roof. It should be noted that the roof of the RIGA XL is more than strong enough to allow a 185-LB person to stand on top of it, right in the middle of the polycarbonate panels.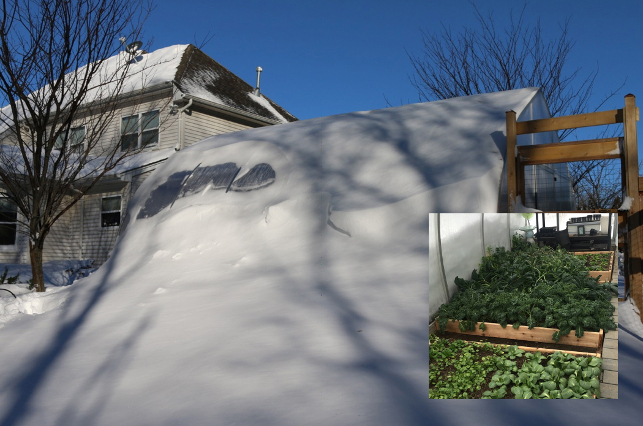 For any greenhouse enthusiast who wants to grow his or her own food during the winter months, the RIGA XL series greenhouse is the most suitable product. The higher insulation value is the key to better energy efficiency and substantial savings in heating costs. The unique design of the RIGA XL series has the best ratio between aluminum framing and polycarbonate panels. This means less "moving shade" and a maximum amount of light transmittance. The RIGA XL's special shape not only allows snow and debris to simply slide down and off it, but it also provides optimal head room inside.
All of this plus the extra design features, including the automatic roof windows, large dutch barn style doors and the removable shelf inserts for customizability, are all testaments of experienced engineering. Exaco, the United States distributor of RIGA XL greenhouses, provides topnotch customer support, including phone support for greenhouse set-up (available even on weekends). Any serious gardener who wants a quality greenhouse for producing food in the winter months or any experienced greenhouse grower, who is paying too much to heat a greenhouse during the cold winter months, owes it to him- or herself to take a look at the RIGA XL greenhouse series.
For more information call 877.760.8500, email customerservice@exaco.com or visit Exaco.com.
Related Articles
3 Useful Tips for Every Greenhouse Grower
Artificial Light for the Greenhouse