When you are designing a perennial flower garden or landscaping make sure that you have something that is blooming all the time. Each of the seasons have specific plants and species that do better than others to produce brilliant colors and foliage. Think of this as watching a fireworks show. The best shows are those with continuous pops and colors. The ones that you are most likely to forget are the fireworks shows that have large gaps or time between each part of the show. This is much like a year-round garden. The time between blooms leaves the flower garden less than desirable or attractive during down times.
When we think about the fall flowers we think of larger and more pronounced plants since they have had all season to grow. Fall flowers also tend to blossom in the jewel tones of the season, deep purples, rusts, scarlet and gold. For fall flowers to be hardy in your garden, you need to plant and establish them earlier in the season.
Here are our picks for the Top 10 fall flowers in alphabetical order. Also, since these are all perennials, the geographic location of the garden needs to be taken into consideration. Some perennials are hardier than others and this must be considered when planting to avoid a one-season wonder perennial that dies off due to the cold the following year.
1. Aster novi-belgli (Michaelmas Daisy)
In shades of pink, purple, blue and white, these delicate daisy-like blossoms start popping open in late August and continue until frost. Pinching in the early summer turns these Asters into mounds with dozens of flower buds. Asters will tend to creep throughout your garden, but their airiness allows them to blend particularly well with other flowers. After the first frost cut back the growth stems and let the plants go dormant for the winter months. They will be ready to start off strong the following Spring. USDA Hardiness Zones 4 – 9.
2. Caryopteris (Blue Mist Shrub)
Caryopteris is a subshrub that is often grown in perennial gardens due to it ease of growth and colors produced. Caryopteris slowly blooms in August with dazzling blue flower clusters. Another bonus is that is that it is also an excellent pollinator plant that attracts butterflies and bees. Caryopteris is cut back in early spring, like a Buddleia (Butterfly bush), leaving the gray-green foliage, which is attractive all season. USDA Hardiness Zones 5 – 9.
3. Chelone (Turtlehead)
Chelone (called Turtlehead due to the shape of the blossom) is a hardy, easy to grow fall blooming perennial. Chelone grow in dense clumps with attractive foliage and red, pink or white blooms. Chelone's are carefree needing only minimal attention. USDA Hardiness Zones 2 – 9.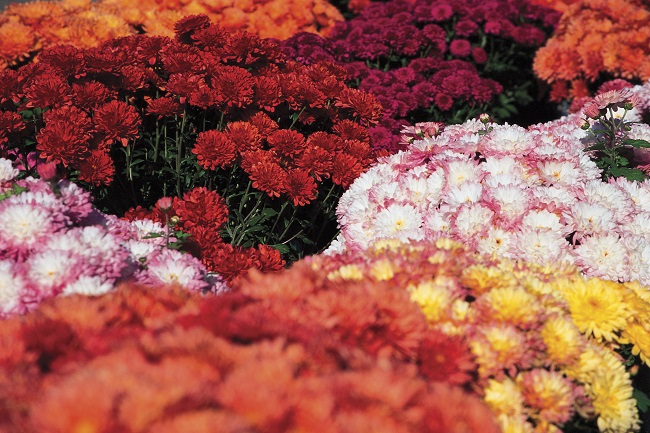 4. Chrysanthemum
Mums come in many varieties and not all are considered hardy. The plants sold in the fall as 'Hardy Mums' should have been sold to us in the spring, to be reliably hardy in the north. However, most people wouldn't have had the patience to plant them and wait. Mums and pumpkins are the flag bearers of fall. Try and get your potted mums in the ground ASAP. Keep them well watered and mulch them once the ground freezes to help insulate the roots and you'll increase your chances of having truly hardy mums. USDA Hardiness Zones 3 – 9.
5. Eupatorium (Joe Pye Weed)
Joe Pye is one of those native plants we take for granted because we see it by the side of the road, but it makes a wonderful backdrop to a garden border. The newer Eupatoriums have been bred shorter and look less weedy but the dense mop heads of mauve flowers still blend in beautifully in the fall garden. Joe Pye is easy to grow and takes very little to maintain. USDA Hardiness Zones 2 – 9.
6. Helenium (Sneezeweed)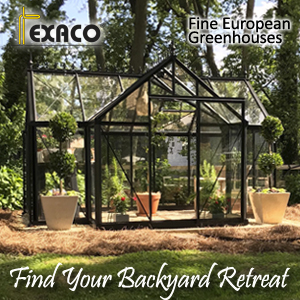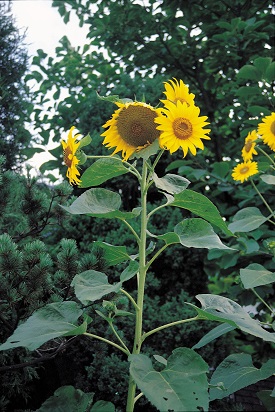 Helenium is making a resurgence in gardens. The small coneflowers, in reds, yellows and oranges make any fall garden pop with color. Many helenium can grow quite tall and will need to be staked or pinched. Helenium grows well in poorly drained areas. USDA Hardiness Zones 3 – 9.
7. Helianthus (Perennial Sunflower)
Helianthus is a typical sunflower with the branching and flopping on its neighbors, almost looking like it will fall over. They grow tall (3-5ft) and produce brilliant gold daisy-like flowers that make an instant focal point and attract butterflies and birds. Helianthus tend to be sterile and can be reproduced by division. They come in a variety of floral designs as well. USDA Hardiness Zones 3 – 9.
8. Heliopsis (False Sunflower)
Heliopsis is very similar to Helianthus. Heliopsis tends to begin blooming earlier in the season and stays on for 8 or more weeks. Newer varieties have been bred smaller and sturdier, for less flopping. USDA Hardiness Zones 3 – 9.
9. Sedum (Autumn Joy)
Sedum comes as close to perfection as any plant can. It looks good all year, requires minimal attention, and attracts few problems. Its only drawback is that it is not deer resistant. No fall garden is complete without sedum. USDA Hardiness Zones 3 – 9.
10. Solidago (Goldenrod)
Goldenrod is finally getting the respect it deserves, especially with introductions like Fireworks and Golden Fleece. Unlike the native solidagos that spread everywhere and never stood up on their own, these newer varieties are sturdy and chock full of fall blooms that help accent the garden and the season. They bloom for about 8 weeks in late summer until first frost. USDA Hardiness Zones 3 – 9.
Samantha Michaels works for a company that offers environmentally friendly "green" products.
Related Articles & Free Email Newsletter
10 Great Plants for an All Season Perennial Flower Garden for Spring
Designing the Perfect All Season Perennial Flower Garden for Summer
The Benefits of a Raised Bed Garden
Subscribe to our Free Email Newsletter