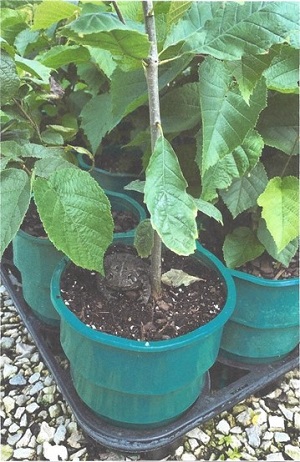 RootMaker Products Company, LLC is pleased to introduce our Green Container that is made from Eastman cellulosic materials that are derived from sustainably sourced wood pulp – made from trees, to grow trees, resulting in a healthier planet. The #1 size was developed primarily for online sales to individuals that wanted to receive plants in an environmentally friendly root pruning container. This container has the patented RootMaker technology that changes the way plants are grown by providing a superior root system for better establishment and faster growth.
The RootMaker Green container was well- received upon offering it on a limited basis last year and is now available on a large-scale basis. This year, several thousand trees grown by Possibility Place Nursery in Monee, IL will be provided to customers of the Arbor Day Foundation's Energy-Saving Trees program participants. The program provides trees to customers of utility companies to help reduce home energy use.
For information call 256-882-3199, email sales@rootmaker.com or visit Rootmaker.com.
Related Articles & Free Email Newsletter Sign Up
4 Unique Container Garden Ideas
Basil is Easy to Grow and Adds Bright Flavor to Many Foods
How to Properly Grow Plants in Containers