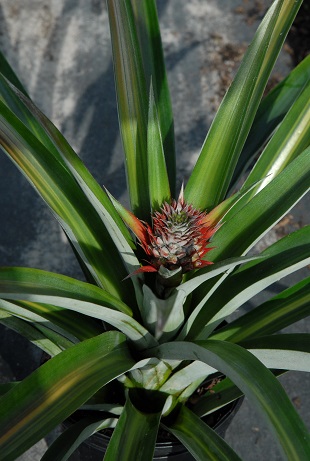 Bromeliads belong to the plant family, Bromeliaceae, which encompasses over 2,700 species plus thousands of hybrids. With one exception all are native to the Americas. You will find them growing from the southern part of the United States throughout the Americas to Chile and Argentina. Spanish moss and ball moss are bromeliads found across a very wide range, but the pineapple is the most familiar bromeliad. In nature many bromeliads grow on trees as epiphytes. Their roots are used mainly for support. While many bromeliads grow on trees, many others grow in the ground, on rocks and on cliff faces. They are remarkably versatile, and form one of the most adaptable plant families in the world. Bromeliads have a tremendous ability to survive, and can offer infinite variety, challenge, exciting plant forms and color combinations.
Aechmea 'Blue Tango' is patented hybrid that is a product of Bullis Bromeliad's hybridizing program. The light green leaves develop to an overall height of 36 inches. What sets Blue Tango apart is not only its long-lasting flowers but the vivid cobalt blue bracks and hot pink stem. Blue Tango is used indoors and outdoors and in landscapes and interiorscapes.
Ananas comosus 'Royale' Edible Pineapple' is the miracle fruit from the Americas. The pineapple has served as both a food and a symbol throughout human history in the Americas. It originally evolved in Brazil and Paraguay and spread by man to Central America and the Caribbean. Christopher Columbus was the first European to encounter the pineapple in November 1493 on his second voyage. Taken back to Europe, it became the treat of Kings. Pineapple has a tropical exotic look and is the international symbol of hospitality. It is easy to grow and needs little fertilizer. Pineapple is an excellent container plant and produces delectable fruit.
Related Articles & Free Email Newsletter
Begonias Are a Great Plant for Your Greenhouse
Ponytail Palm is a Great Greenhouse Plant
Walnuts are More Than Just a Healthy Food