Founded in 1881, three generations of the Gale family have owned Stokes Seeds since 1934. Wayne Gale, the third generation of his family to work for the company is currently President. His grandfather W.H. Gale purchased the Canadian arm of the original Stokes Seed Company from Mr. Francis C. Stokes, after working for more than 10 years as its sole Canadian sales representative. Since then, the Gales have built Stokes Seeds into an international distributor of high quality vegetable, flower and herb seed, the largest in Canada and the tenth largest seller in North America.
As a distributor of over 3,500 varieties of seed as well as garden accessories to customers throughout North America, Stokes' emphasis on quality and extensive growing information is what makes it unique. An e-commerce website, sales team and seed catalogs offer products to home gardeners and commercial growers, where home gardeners receive the same quality seed and pricing available to commercial growers.
Stokes is a principal seed supplier for over 40,000 greenhouse growers and commercial truck farmers in Canada and Northeastern U.S.A. with offices in Thorold ON (shown below), Buffalo NY and Stokes Seeds Vineland NJ. The head office, a 74,000 square foot building in Thorold, ON amalgamates Stokes' retail, administrative, commercial and warehouse operations which employs approximately 135 personnel.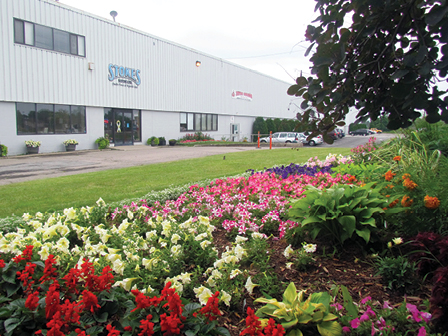 Along with the ability to purchase seed from its call center and Thorold Ontario retail location, Stokes also distributes over 500,000 regional seed catalogs. The U.S., Canadian English and French Canadian catalogs are mailed annually and include useful growing information gathered from many vegetable and flower trials. Trials are conducted in geographic areas in the U.S.A. Northeast, Midwest, and Canada, as well as on the Stokes Trial Farm in St. Catharines, ON. These trial grounds are used extensively for the evaluation of newly promoted varieties and to determine their adaptation to local conditions. This farm is also an official trial site for All America Selections varieties.
Wayne Gale's own profile has increased in step with the progressive advancements of Stokes Seeds. Through his involvement with many seed industry associations, he has made a name for himself as an experienced businessman with an innate knowledge of trade issues. He has served as President of the Canadian Seed Trade Association, Regional Vice-President of the American Seed Trade Association, President of the All American Selection Garden Trade Association and as a board member of the Canadian Seed Institute, an industry formed quality certification organization.
While serving with these organizations, Wayne has been involved in negotiating federal government fees for seed inspection, assisted in establishing quality assurance guidelines for the seed industry and helped establish research and development guidelines for Revenue Canada in plant breeding.
Stokes' community involvement is witnessed through the company's many charitable efforts. A partnership with Niagara College to create its new greenhouse program, participation in various fundraising drives, such as the YMCA, Brock University, Cancer runs, Goodwill Niagara, Heart and Stroke and Family Wish's Christmas campaign and donation of seed to many Horticultural Societies and Community Gardens throughout the north east.
Another major charitable effort sees Stokes donate surplus seeds to agencies such as World Vision, that ship to Third World countries to assist farmers in planting a higher quality seed. Lately, Stokes' efforts have supported Seed Programs International, who provides good quality seed, expertise and training materials to humanitarian organizations working around the world to alleviate hunger and poverty.
The Gale family is thankful to be involved in such a passionate, sustainable and essential industry. Their mission remains to supply the highest quality seed along with the know-how to ensure success for all their customers, big or small.
John Gale 1934-2017
John who was very active as Chairman of the Board and author of the Stokes Seeds catalog for fifty years passed away April 23, 2017. He was highly regarded in the industry as a true seeds man. John could tell you all about Alyssum in one breath and the attributes of 50 different Broccoli in the next. His chats with staff and ability to spot great new products in the company farm trials will be missed.
For more information or to request a catalog visit StokeSeeds.com or call 1-800-396-9238.
Related Articles
7 Necessary Greenhouse Accessories & Supplies
Growing Healthy, Productive and Profitable Plants through Succession Planting