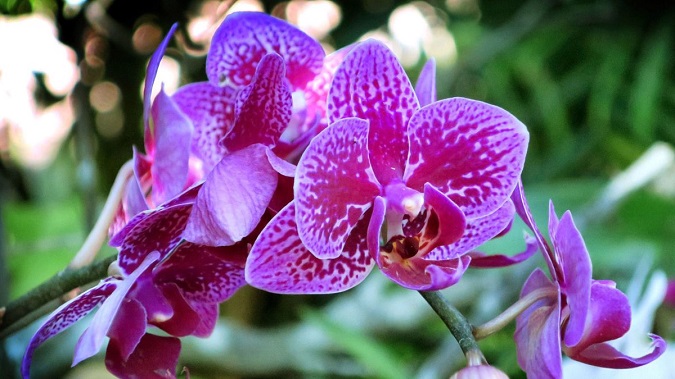 As the summer wind and noon sun treats orchids in nature different during the summer months, you must also treat indoor and garden orchids differently during the warm months. While many plant owners will move their indoor orchids to the fresh wind and sun of Mother Nature during the summer, precautions should still be exercised. Moisture must be maintained within potted orchids, and many "tough" orchids-such as Cattleyas-can often be watered a day later than normal.
Orchids including oncidiums and phalaenopsis, can normally be watered around twice a week, while also giving them a light mist every day. If wrinkling is noticed in the pseudobulbs, these orchids are likely not getting enough water.
Mid-Day Shade in the Summer
Almost all orchids that have been moved outdoors or are growing outdoors require mid-day shade in the blistering summer months. Grown best in the morning, the eastern light is best followed by dappled shade for the rest of the day, with nearly full shade in the mid-afternoon. Exceptions to this rule include the Cymbidiums, which can withstand full afternoon sun.
Most other orchids, when exposed to noontime sun, will burn and wither. These plants burn easily and will acquire dull yellow and black starched areas. Two such plants, the phalaenopsis and cattleyas, will display a reddish color that will quickly turn to yellow.
Summer Blooming and Growing
In the summer, many orchids reach their peak blooming season, or the culmination of their blooming. To check a phalaenopsis, cut the flower stem one-half inch from the bottom, if side branches show, the orchid is ready to re-bloom. Once it has bloomed, though, it must be repotted in a bark or bark-and-charcoal orchid mix and recover in a shaded spot for a month. Once fully recovered, the phalaenopsis can be moved back to its original spot. The same process can be practiced for Cattleyas in the summer months.
Other orchids reaching their peak periods in the summer, and requiring ample amounts of water and light, include the paphiopedilum and slipper orchids. They, like the phragmipediums, must be kept moist during the hottest hours of the day, often around noon. The water must be administered, and shade must be given, but not at the expense of any sun light at all, which they need to remain healthy.

If the plants reach an unhealthy state during the hot summer months, due to lack of water, air, or light, a fungus or rot will develop. This can be avoided by increasing air circulation, or by using simple fungicides.
Related Articles & Free Email Newsletter
4 Mistakes to Avoid with Dendrobium Orchids
4 Tips for Growing Young Orchids
How to Divide and Conquer Your Orchids
Subscribe to our Free Email Newsletter