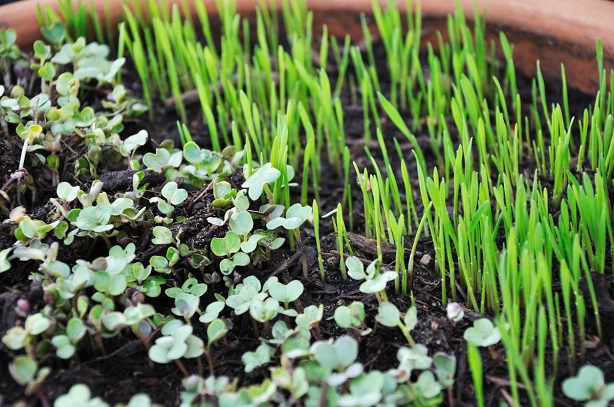 Add fresh flavor to your meals year-round with microgreens. These easy-to-grow greens need minimal space and no special equipment for a flavorful and nutritious harvest in little more than a week.
Use microgreens on salads, soups, pizzas, omelets, in stir fries or as a snack. These tiny seedlings are packed with more nutrition than their mature counterparts.
Add a bit of spice to soups and sandwiches with radish and mustard microgreens. Try red cabbage, chard, beets, and amaranth for some added color. Sunflower's somewhat nutty flavor makes it perfect for snacking.  Let some of your pea microgreens grow a bit taller to use in stir fries.
Fill a shallow container with a two-inch layer of moist potting or seed starting mix. Sprinkle seeds over the soil surface and lightly cover them with potting or seed starting mix. Water gently to ensure good seed-to-soil contact.
Continue to water often enough to keep the soil slightly moist. Reduce your workload and keep the planting mix consistently moist by covering freshly planted containers with plastic. Once the greens break through the soil, remove the cover, and move the container to a sunny location or under artificial lights.
The microgreens are ready to harvest once the plant forms the first set of true leaves. These are the leaves that resemble those of the mature plant. This takes anywhere from 7 to 14 days, depending on the room temperature and type of microgreens you are growing.
Use scissors to clip the greens off at ground level. If you prefer to use the whole seedling, roots and all, you will need to wash off any of the seed starting mix clinging to the roots.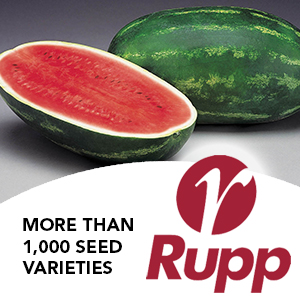 Once you harvest all the greens, it is time to replant. Save money and be kind to the environment by composting the used planting mix and reusing containers. Convert shallow fast-food containers into planting trays.  Disinfect these or other planting trays before using them for subsequent plantings.  Just soak the containers in a 10% bleach and water solution for ten minutes. Then rinse in clear water before planting.
Melinda Myers has written more than 20 gardening books, including Small Space Gardening. She hosts the "How to Grow Anything" DVD series and the Melinda's Garden Moment TV & radio segments. Her website is MelindaMyers.com.
Related Articles & Free Email Newsletter
Free Cactus & Succulent Fertilizer Sample
Tips for Seed Starting Success
Subscribe to our Free Email Newsletter