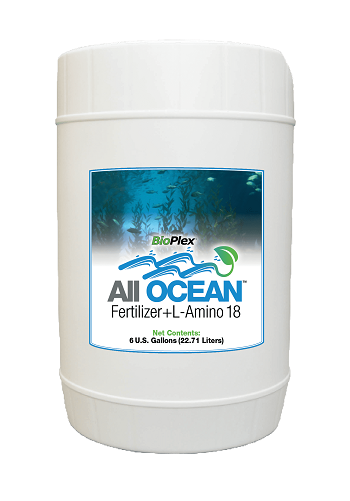 BioPlex Organics promotes a staunch commitment to the environment and encourages an intense focus on what each individual ingredient means for their nutrients and fertilizers. They've always set themselves apart from cheap, industrial fertilizers that were manufactured without regard to their environmental cost. And they continue to set themselves apart with their All Ocean 3-2-2 Fertilizer. The All Ocean 3-2-2 is entirely sourced from natural, organic components and it prides itself on being a truly environmentally friendly fertilizer.
BioPlex All Ocean 3-2-2 Fertilizer was created with liquid seaweed extract, and with seaweed, less is more. Apply All Ocean 3-2-2 during early vegetative growth to maximize benefits, then continue to apply small doses throughout plant maturity. Seaweed is recognized as a biostimulant, a naturally occurring substance or microorganism that promotes growth in plants. Biostimulants are a recent topic of interest in agricultural science, reflective of modern science's desire for greener growing. In All Ocean 3-2-2, seaweed is processed via a cold extraction process. This process ensures that the cytokinins, signaling molecules that promote cytokinesis (cell division) in plant roots, are maintained during processing. The cytokinins are then paired with 18 important amino acids, trace minerals, plant hormones, and even a bit of hydrolyzed fish, which contains additional amino acids, to create an all-natural blend that promotes dense root growth and overall plant health.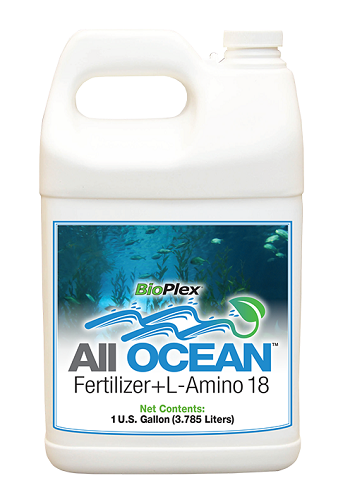 Plant roots are the primary focus of All Ocean 3-2-2. It promises to not burn vegetative plant and root structures regardless of the season it is applied in. It is a slow-release fertilizer, focused on the continuous health of your plants through chelation. All Ocean 3-2-2 contains an L-Amino 18 complex, which increases chelation in your plants. Over time, this increased chelation results in the absorption of more trace nutrients, such as iron, zinc, and copper, from your growing medium. L-Amino 18 was formulated to specifically meet the needs of commercial turf, ornamental plants, and other plants that are not typically grown in an optimal, climate-controlled environment. It strengthens cell walls and helps plants weather stress when exposed to prolonged heat or drought. Because of its ability to strengthen cellular integrity and promote turgidity within plants, All Ocean 3-2-2 can be used to combat root decline in addition to its traditional use as a standard fertilizer.
All Ocean 3-2-2 is a versatile fertilizer that can be used to promote healthy, fibrous growth in vegetable crops, field crops, trees, vines, and indoor house plants. It can be used on fairways, greens, lawns, gardens, and landscaping. It can even be used within nurseries and greenhouses. All Ocean 3-2-2 is available in 32 fl oz, 1 gallon, and 6 gallon mini-drum sizes. Each size is shipped as a dilutable concentrate. Pricing, further product information, and customer support can be found on the All Ocean 3-2-2 listing page, found here at Bio-plex.com. If you are looking for a 100% organic, sustainable fertilizer that packs seaweed cytokinins, the chelation and turgidity promoting L-Amino 18 complex, and fish hydrolysate, BioPlex's All Ocean 3-2-2 is something we strongly recommended.
For more information call 800.441.3573 or visit Bio-plex.com.
Related Articles & Free Email Newsletter
How to Get Started with Organic Gardening in a Greenhouse
Humic Acid and Seaweed Extracts are A Powerful Combination
Kelp Has Earned a Special Classification