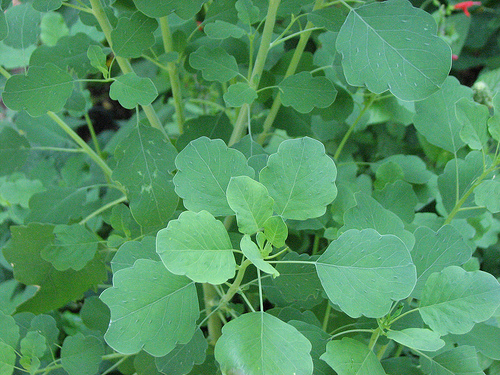 Porophyllum ruderale is an herb that grows from the Southwestern United States, through Mexico and as far South as Bolivia. It has a flavor "somewhere between arugula, cilantro and rue" and is also known as Bolivian coriander. It is an herbaceous, fast growing annual from the Marigold family, Tagetes. Well known south of the border, it is used to flavor salsas, soups and salads. In my experience, it is the missing ingredient in a green salsa. Tomatillo and Papalo were made for each other! In South America, it is placed on the table as a tasty bite garnish.
When encountering this herb, a person knows that they are meeting something unusual. It has also been described as "skunk's breath". It is known to have a love it or hate it flavor and if you don't like cilantro you probably won't like Papalo. It also has some medicinal uses as it is said to help lower blood pressure.
Growing the herb is easy and it is a prolific seeder, so seed saving is easy. The seeds can be difficult to find and are not well known; an internet search will yield some seed dealers of unusual herbs. My plants came from an organic grower's plant sale. This unusual herb grows well with with Epazote, also known as Mexican Tea, Basil and when partnered with some chili peppers garlic and onions makes for a mini food vacation in the garden with some imagination required. It can also be grown indoors in a container during winter. It is very adaptable if it is kept above 50 degrees Fahrenheit but is similar to basil and frost kills easily.
My favorite way to use Papalo is to use it as a garnish on tacos or in a salad for the exotic top note in summer dinners. Below is a recipe in fusion cuisine for Papalo Pesto from Appalachianfeet.com.
Papalo Pesto
2 cups of Papalo, large stems removed
1/2 cup blanched almonds or pine nuts
1/4 cup chopped red onion
1 teaspoon chopped and seeded serrano or jalapeno chili
1/2 teaspoon salt
1/4 cup olive oil
Juice of one lime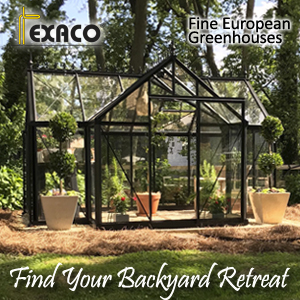 Mix the Papalo, nuts, onion, chilies, optional lime juice, and salt until paste-like (food processor or mortar & pestle required). Slowly mix in the olive oil and continue working into a paste. If using a food processor, add the oil in a slow, steady stream.
Makes around 1 cup, whatever you don't use right away you can freeze in ice cube strays. Pop the cubes into a freezer bag or long-term storage container. Recommended as a sandwich spread, mixed with cubed Monterrey Jack or Queso Blanco as a salad topping, or on pasta served with fresh garden tomato.
Caron Wenzel is an Environmental Educator, Permaculture instructor, writer, and is the owner of Blazing Star Inc. a 26-year-old native plant seed nursery and environmental consulting business. Blazing-Star.com.
Related Articles
Growing Healthy, Productive and Profitable Plants through Succession Planting
Support Native Bees and Enjoy the Many Benefits
The History of Sub-Irrigated Planters and Why You Need One