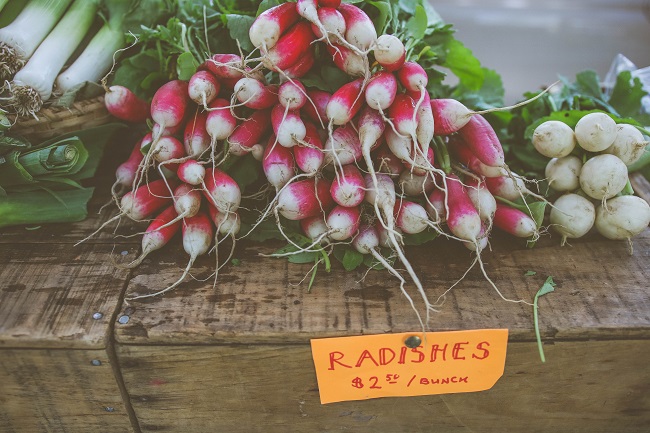 A notable early harvest vegetable, radishes are a spring crop which enjoys a nice cool growing season. Homegrown radishes are like homegrown tomatoes; those who love them swear by their superior flavor and texture when compared with their supermarket relations. Again, like tomatoes, the variety of radishes available at a closer glance is truly staggering.
There are many types of radishes, varying from the familiar rotund red and white radishes to Asian Daikon radish, which boasts a unique and delicate flavor. Easter Egg radishes come in all manner of vernal colors, from pale lavender to rich pinks and white, while French Breakfast are stylish with red bodies and white tips. And while most varieties of radish prefer cooler temperatures, French Breakfast and Icicle radishes are more heat tolerant, which extends their growth and harvest periods. Winter radishes, such as Daikon radishes prefer much cooler temperatures.
Radishes can be grown in rows or broadcast across a larger area, if the plantings will eventually be about 2 inches apart in all directions. Plant closely and then thin every other plant, which helps remaining radishes to grow round. The small, thinned radishes can be tossed in whole in a salad with a good vinaigrette, leaves and all. Radishes should grow quickly, sprouting from seed between 3 and 10 days. Radishes mature between 20 and 50 days, and radishes that grow slowly or are left too long in the ground become hot and woody or spongy. Radishes are also prone to splitting, when left in the ground too long. A simple test determines if a radish is past its prime; squeeze the radish gently, and if it gives, it's fibrous and is more suited to the compost heap than the plate. Since radishes mature more quickly, some gardeners co-plant radishes and carrots, to mark their carrot rows. Sowing the radishes automatically thins the carrot plants.
The heat and unpleasant texture of overaged radishes accounts for many eaters who are biased against them, rather than preparation methods. Radishes are kin to mustard, which can account for some peppery flavor, but this intensity varies as does their size. Spring radishes tend to be smaller, while the winter radishes are larger, with the creamy-sweet Daikon maturing at about 18 inches, depending on the specific type. Easter Eggs, and Cherry Belles will be much smaller and much different in flavor.
Radishes are a crisp and refreshing so are best and commonly eaten raw. The number of ways of radish preparation, even raw, rivals the number of varieties of radish available. Add radishes to crab salad, chicken salad and egg salad, for a pleasing contrast of textures. Radishes are an indispensable element in springtime garden and vegetable salads, too. French Breakfast radishes are an unusual treat in the morning, or any time. Try them on your favorite bread (a dark bread is nice) smeared with butter or cream cheese and topped with the red and white radishes sliced thin and the whole sprinkled with a little salt. Radishes are commonly used as garnish in tacos, especially Tacos al Pastor, and soups in Mexican cuisine. The state of Oaxaca even hosts a "Noche de Rabanos" to celebrate the popular little root. Once again, the texture contrast is part of the reason they're used, but many also agree that the sharp flavor can cut through a greasy sauce. Radishes to be eaten raw can also be decoratively cut by the aesthetically inclined cook or the aspiring woodcarver to create edible garnishes in brilliant colors.
Another reward of radishes is their edible greens. Older greens can be a little tougher, and prepared as turnip or mustard greens, while the smaller leaves need little more preparation than the root at their ends. Try tossing the greens in a leaf salad for another note of flavor. Sliced radishes can be just barely steamed, along with their greens and some butter; this brings out a little sweetness in the radishes. An unusual and delicious spring soup takes advantage of both delicious parts of the radish.
Spring Radish Soup
3 Tbs butter
1/2 large sweet onion, diced
2 medium potatoes, washed and sliced
4 cups radish greens, washed and trimmed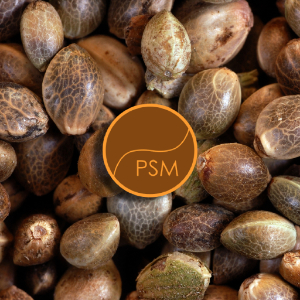 4 cups vegetable broth
5 radishes, sliced
Melt butter in a soup pot over medium low heat. As butter is melting, stir in onions and cook slowly until they are translucent with a little golden or brown color. Mix in potatoes and radish greens and stir to get a nice butter coat on everything. Pour in broth and bring to a boil. Reduce heat and simmer until potatoes are tender, about 30 minutes. Mash mixture in pot with a potato masher for a chunky texture, use a blender for a creamy texture. Serve with radish slices and salt and pepper. Cream, yogurt, sour cream, or milk added to garnish makes the blended soup downright luxurious.
Makes 4 hearty servings
Amy Ambrosius is a writer and budding gardener living deep in the heart of Texas with her family.
Related Articles & Free Email Newsletter Sign Up
Fava Beans Let You Eat Like an Egyptian
Three Sisters Planting: A Concept in Edible Gardening
Shop for High Quality CBD Products with No THC
Subscribe to our Free Email Newsletter