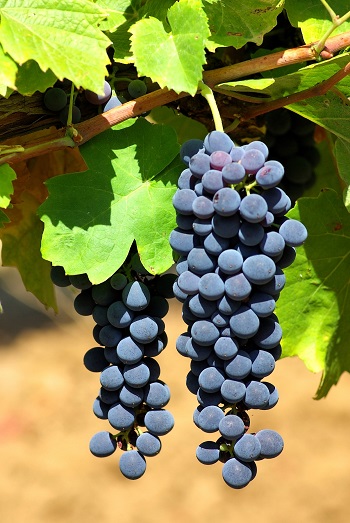 Harvest season is upon us, and the Grape Family just spoke to me. Consider how many things the fruit of grapes are connected to in our culture: jelly, wine, raisins, stuffed grape leaves, stories, religious services, myths, and legends. And if that isn't enough, the powerful antioxidant resveratrol that is extracted from the skins of red grapes.
There are 4 genera and 40 species in temperate North America and all wild grapes are edible and young leaves and tendrils are edible. Be careful to not confuse wild grapes with Virginia Creeper or Moonseed as they are both poisonous.
All edible grapes can be considered a superfood. Packed with vitamins, minerals, phytonutrients, and anthocyanins, they are literally one of the best things that we can eat. More is being discovered by food researchers on just how good they are. A good grape juice may be one of the keys to a long, healthy life. The key is found in the grape pigment resveratrol. This pigment my be one of the reasons the Mediterranean Diet is so healthy as it includes vegetable heavy recipes, red wine, table grapes and olive oil.
Wild grape grows in my yard, and I mix the wild grapes with my Concords and Catawba vines. Every year I make grape jelly for holiday gifting. Here is the basic grape jelly recipe:
Grape Jelly Recipe
2 cups grape juice
2 1/2 cups sugar
½ box pectin
Crush 4 cups of grapes in a glass or enamel pot with ½ cup water. Simmer 15 minutes.
Cool for 30 minutes. Stain to obtain 2 cups grape juice. Mix the juice and pectin to a hard boil. Add sugar and hard boil again. Boil and stir for 3 minutes then skim off the foam and pour into sterile jelly jars and seal.
A lower sugar jelly can be made by using Pomona Pectin (available online) and substituting stevia, xylitol, and or agave sweeteners in place of the sugar. Extra grape juice can be added to smoothies.
Caron Wenzel is an Environmental Educator, writer, and is the owner of Blazing Star Inc. a 30-year-old native plant seed nursery and environmental consulting business. You can visit her website at Blazing-Star.com.
Related Articles & Free Email Newsletter Sign Up