I must confess, polycarbonate greenhouses are my choice every time over a glass greenhouse. I love the looks of a glass greenhouse, and I understand that they have their place and purpose. But, I am more of a form follows function kind of grower.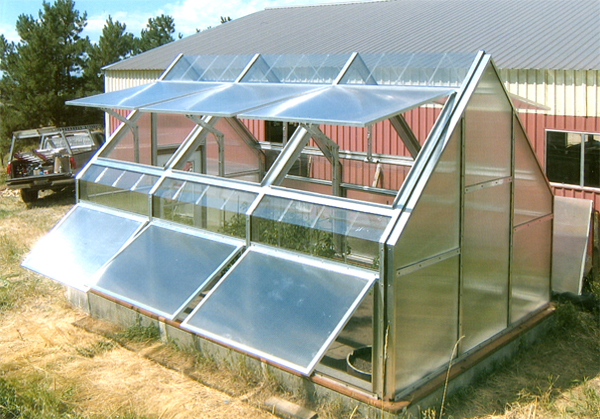 We started using polycarbonate in our local installation business in the early 90's. At that time our choices were 8mm clear twinwall and 16mm clear triplewall. The colors bronze and opal were also available. Neither bronze nor opal serves much purpose for a greenhouse due to the low (usually 30% to 50%) light transmission. So, being in the deep South, we usually opted for the 8mm clear. The 16mm was more expensive, and due to our mild climate we really did not have the need for the extra insulation.
Most of the hobby greenhouse kits today offer a choice of 6mm clear twinwall, 8mm clear twinwall, 8mm clear triplewall, 16mm triplewall and 16mm five wall polycarbonate. Some manufacturers will offer specialty polycarbonates as an upgrade.
If you are building your own greenhouse frame, there are many more options available. There are specialty polycarbonates such as Lexan Thermoclear Plus Softlite, which offers 100% light diffusion. Also, there is Solexx glazing material which offers 72 – 77% soft diffused light, although, Solexx is polyethylene rather than polycarbonate. Polygal offers 8mm Polycoolite which reduces excess heat while letting in high photosynthetic light quality and quantity. There are sheets such as Lexan Thermoclear Plus which have a higher warranty than most polycarbonate sheets. There are a lot more options available than there was 20 years ago.
Polycarbonate greenhouses do have one downfall; if you are standing outside the greenhouse you cannot easily see what is inside the greenhouse. Looking down the end of a polycarbonate sheet is like looking down the end of a cardboard box. You have the sheet on the outside, the sheet on the inside and the rib that runs between the sheets. In the cardboard the rib will be wavy. In the polycarbonate sheet the rib will be straight between the two outer sheets. The rib is what distorts your view. I had a beautiful red begonia which I took into my polycarbonate greenhouse for years. From the outside I could see the green of the leaves and the red flowers, but I could not tell you if it was an impatiens, a geranium or another flower.
Most polycarbonate (be sure to check with the manufacturer) will have a warranty that states it will not vary in light transmission by more than 6% in ten years. This is a fancy way of saying it won't turn color or get brittle. Most also come with a ten year warranty against hail damage. In general, polycarbonate is an excellent choice for greenhouse glazing.

Tammy Wylie has been selling and installing greenhouses since 1993. She currently owns and operates two greenhouses, an 8 x 12 is used to overwinter plants and an 18 x 24 greenhouse is used to start vegetables, herbs and annual flowers. She also tests new products in this greenhouse and evaluates them for efficiency and user friendliness. She is the owner of Advance Greenhouses AdvanceGreenhouses.com.
Related Articles & Free Email Newsletter
7 Necessary Greenhouse Accessories & Supplies
Deep Cleaning in the Greenhouse
Maintenance on Indoor Gardening and Greenhouse Equipment
Subscribe to our Free Email Newsletter