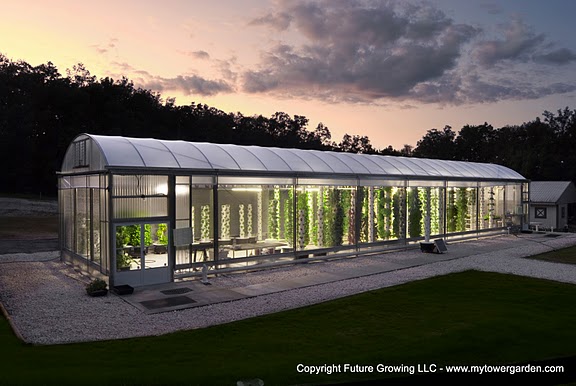 Jan Young at Living Towers Farm is putting a new twist on organic gardening by utilizing Aeroponic technology in a 2,000 square foot, full production greenhouse. The greenhouse is an eco-friendly structure that was built to be as sustainable and green as possible. Jan's greenhouse is much different than traditional greenhouses which are completely closed in and use large, exhaust fans to force air throughout them. The Living Tower greenhouse is designed to work with nature and uses very little energy. In the greenhouse design, all four walls roll up 12' to the gutter, opening the greenhouse to the outside environment where plants are actually meant to grow and thrive. The plants receive abundant airflow and get direct sun at the cooler times of the day.
The walls are still screened with a light shade material that keeps the larger insects, birds, and animals out of the greenhouse, which is a very important part of food safety and natural pest control. These plants are more pest-resistant when they receive natural, unfiltered sunlight.  Smaller pests such as mites and aphids, which can work their way into the greenhouse, are simply controlled with natural insect enemies or organic sprays such as soap and neem oil. They have also found that their plants have a very strong resistance to most pests throughout the year.  The most important thing is that they follow organic standards for pest control and stay away from chemicals.
Most agriculture operations use either surface or well water to feed their crops. In Florida, for example, about half the ground water usage is for agriculture. The Living Towers greenhouse design captures rainwater and stores it underground until it is used by the plants in the greenhouse. This eco-friendly rain system allows growth of almost all food crops with zero ground or surface water. The 12' vertical aeroponic towers utilize solar power to rotate throughout the day, providing optimal sun to every plant in the high production greenhouse.
This aeroponic, soil-less growing system re-circulates 100% of the nutrients and rainwater that is collected. This translates to them using only five to ten percent of the water than is used in conventional agriculture. The ionic earth minerals used to feed the crops in their water based aeroponic system not only provides a healthy balanced diet for the plants, but also provides minerals that are important to good human health. The greenhouse system can produce up to 300,000 plants per acre in as little time as three to four weeks, depending on the crop.
Not everyone can have a full-scale commercial greenhouse in their home or back yard, so Living Towers Farm also offers individual Tower Garden units, which are designed for a balcony, patio, or small urban farm. The aeroponic vertical Tower Garden is a way of cultivating plants with water and nutrients also without soil just like the 12'commercial towers. The bottom of the tower holds a water reserve tank with nutrients. A small, low-wattage electric water pump transports the water to the top of the tower which descends by gravity, irrigating the plants and returning to the bottom tank. The plants grow out of small holes in the tower. One can plant lettuce, herbs, leeks, broccoli, cauliflower, Swiss chard, cucumbers, strawberries, tomatoes, and medicinal herbs—just about anything one desires with only the amount of energy that an aquarium might use.
Planting, maintenance, and harvesting is easy for everyone as there is no weeding, tilling, kneeling, or getting dirty. There is no need to have a "green thumb". The towers can grow everything from gourmet lettuce and herbs to edible flowers and vine ripened tomatoes. Jan says the new growing technologies make sustainability fun because the food is exploding with fla­vor and nutrition. Adults and kids alike love being part of the growing process and love the real taste of the fresh vegetables.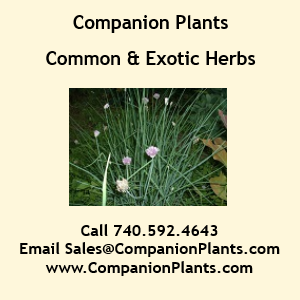 For more information call 305.986.0803, email info@livingtowers.com or visit LivingTowers.com.
Related Articles & Free Email Newsletter
An Inexpensive DIY Underground Greenhouse
How to Create the Best Location & Orientation for Your Greenhouse
Things to Consider Before Purchasing a Greenhouse
Subscribe to our Free Email Newsletter