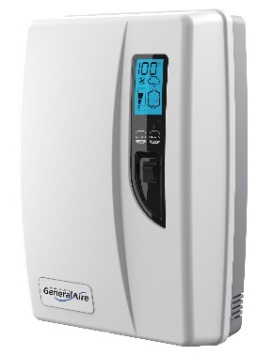 General Filters, Inc. has announced the launch of their new GeneralAire® model 5500 Steam Humidifier.
The new electrode steam model is smaller than previous GeneralAire® steam models and offers several new features; features that reduce installation and maintenance time and speak to the advanced technology with which it is made.
One model now accommodates either a 115 or 230V installation (with the flip of an internal switch).
One cylinder accommodates regular and low water conductivity.
Offering one unit and one cylinder makes it much easier for a contractor, who now only needs to carry one unit in his / her truck for almost any steam installation.
The model 5500 indicates the square feet the humidifier can accommodate, simplifying contractor selection at the wholesale counter.
Spark-plug style cylinder wire connectors have been incorporated into the design. The "SNAP-in-place" connectors mean changing the cylinder does not require tools and assures a solid, secure connection.
With just a single-screw cover release, maintenance is now quick and hassle free. Permanently attached to the cover, the screw cannot fall to the ground roll away.
The unit includes the new GFX4 humidistat, which now controls the furnace blower motor. Humidity levels will be more steadily maintained with or without a call for furnace heat, turning the blower on when there is a call for humidity.
A mounting kit and installation straps are included, reducing extra materials a contractor might need to bring to the installation.
General Filters maintained the numerous function indicators and error codes of the previous control screen, but enhanced the screen's color to an easy-to-read fresh blue.
For additional information, contact:
Allan Feys, Director of Sales & Business Development
General Filters, Inc.
866-476-5101 x 201
allanf@generalfilters.com
GeneralFilters.com
Related Articles
5 Things to Consider Before Purchasing LED Grow Lights