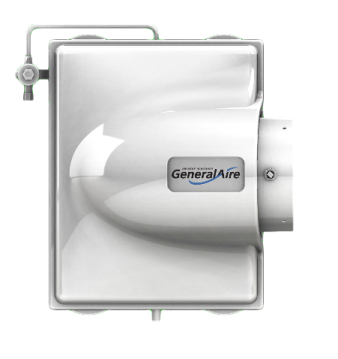 General Filters, Inc. has announced the new GeneralAire® models 3200 & 4200 Evaporative Humidifiers, designed with high efficiency furnaces, lower plenum temperatures, tight installation spaces, and ease of contractor installation in mind.  Virtually every component of today's typical humidifiers has been redesigned.
First, the new low-profile cover eliminates unnecessary cavities that allow hot furnace air to circulate and cool before passing through the Vapor Pad. The low-profile design of the new cover directs hot furnace air immediately through the Vapor Pad at its warmest point to maximize output.
Additional enhancements that maximize output include a new water distribution trough that distributes water more evenly throughout the entire Vapor Pad®; a redesigned pad frame that ensures maximum pad surface exposure; and a stainless steel water supply tube that allows for hot water installation. The resulting 3200 & 4200 models represent a radical and efficient departure of current evaporative humidifier designs to achieve maximum output with today's new furnaces.
The 3200 accommodates a 3200 square foot home and the 4200 accommodates a 4200 square foot home; helping counter sales and contractors easily select the right model for the job. The compact case design also addresses the issue of reduced installation spaces and offers a simple process for the reorientation of the by-pass and solenoid valve (L to R). The humidifiers are constructed using sturdy UV stable plastics, with an easy snap-in-place cover that features the new GeneralAire® brand logo design.
Performance, selection, ease of installation and simple maintenance are achieved by this revolutionary design. 
For additional information, contact:
Allan Feys, Director of Sales & Business Development
General Filters, Inc.
866-476-5101 x 201
allanf@generalfilters.com
Related Articles
Maintenance on Indoor Gardening and Greenhouse Equipment
Natural CO2 Enrichment for Indoor Gardening