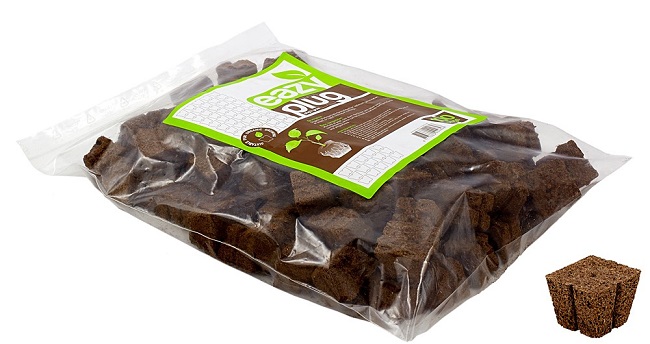 With the EazyPlug Full Cycle propagation system, growers can eliminate the need to re-pot or transfer plants at different stages of the grow cycle, leading to reduced cycle times and significant savings on fertilizer.
Used during the rooting and germination stages, EazyPlug is part of a simple-to-use, full-cycle plant propagation method with three components – plug, block, and pyramid – that covers the entire cultivation period from propagating through harvesting.
The fundamental innovation lies in the medium, which is made of all-organic material that forms a special bond. The stability afforded by the bond creates an airy structure with superb water-holding capacity. As a result, it's nearly impossible to over-water or dry them out. The bonded organic components eliminate the need for pots or sleeves, which in turn "promotes the growth of huge hair root structures due to the air pruning effect."
All EazyPlug substrate components come with pre-determined EC (electrical conductivity) and pH levels, which enables them to self-regulate to the precise air-to-water ratio, ensuring optimal growing conditions.
The water uptake of the material is extremely fast: A dried EazyPlug takes less than 10 seconds to get re-moistened; an Eazy Block less than 15 seconds; theEazy Pyramid within 2 minutes.
And since EazyPlug components are shipped dry, they can resist molds, giving them an endless shelf life.  All EazyPlug components are made from organic material and are 4-star OK Biobased certified (TÜV Austria), meaning the product contains more than 80% carbon of renewable origin.
EazyPlug guarantees a 100% success rate if directions are followed.
Learn more about EazyPlug, the EazyPlug Full Cycle, or to see real-time performance results, go to our blog series, where the Tradewinds team conducted a propagation test against Rockwool. For retailers interested in carrying EazyPlug email sales@tradewindsgarden.com. For all other inquiries email info@tradewindsgarden.com.
Related Articles & Free Email Newsletter Sign Up
How Rooting Compounds Work and Why You Need Them
How to Make Your Own Seed Starting Mix
How to Use a Seedling House in a Greenhouse