A seedling house provides nice above ground heated home for vegetable seedlings while they get natural outside light to promote good growth without allowing them to become leggy. A seedling house is any structure that allows you to place the seedling trays and domes within it. It can be a cold frame, a frame with plastic sheeting for a top and sides, or a tunnel or row cover within a greenhouse. The idea is to create an environment for starting vegetables from seed that is not prone to the chilling and drying effects of the wind. It must retain most of the heat that you provide within it, and it also has to allow light to enter freely to heat up the environment like a greenhouse. This gives the vegetable seedlings a nice place in the sun and a warm spot for those cold and long winter nights.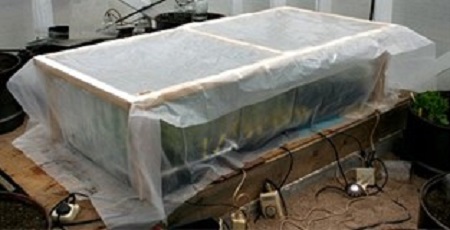 I like the idea of starting vegetables from seed in a small portion of the greenhouse dedicated to vegetable seedlings. This is especially appealing if that same area can later be used for other purposes. This means you are starting vegetables from seed out where you are going to plant them, and this keeps the mess out of the house.
You can of course have a separate seedling house so that you have the business of potting soil and trays and pots and pellets off in a separate area that doesn't interfere with areas meant for hoes and rakes and shovels. Suit yourself when it comes to this, but if you are like many, space is at a premium and materials are costly, so you might want to have your area for starting vegetables from seed also be a part of your area for growing the vegetable seedlings after you transplant them.
Clair Schwan is an experienced vegetable gardener with open sun gardening beds and three quality greenhouses of his own design and construction. He grows over 100 varieties of vegetables and provides fresh produce year-round for himself and his family.
Related Articles & Free Email Newsletter Sign Up
4 Top Cold Weather Crops for Spring
Cold Frames Offer an Easy Start to Greenhouse Gardening
How to Use Waterbed Heaters to Start Vegetable Seeds