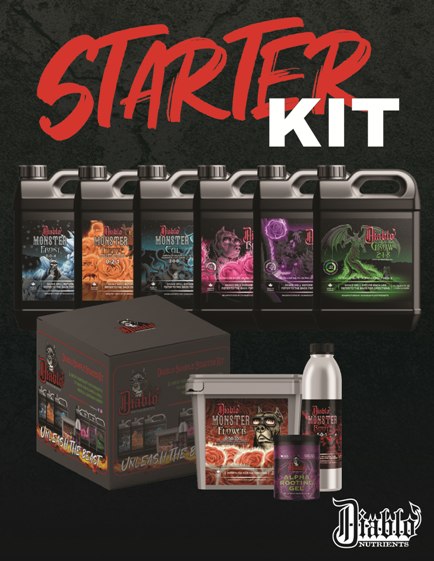 There's a wide variety of nutrient boosters and fertilizers on the market, and making sure that you have everything you need to nurture healthy plants can be a demanding task for a first time grower. Diablo Nutrients aims to simplify fertilizer management with their Diablo Starter Kit. It's a perfect combination of everything you need for healthy crops and high yields, and it's tailor-made for first-time growers. Experienced growers looking to try new products without paying bulk pricing will also be satisfied with the Diablo Starter Kit.
10 fertilizers and plant supplements are included in the Diablo Starter Kit, and each has been tested for performance in indoor and outdoor growing. Diablo primarily uses earth minerals and extracts in their nutrients, meaning that harsh, harmful chemicals are nowhere to be found. Additional technology is added to the earth mineral base to improve growth. Nano emulsion technology, exclusive to Diablo Nutrients, ensures that your plants absorb the maximum amount of nutrients by breaking down the nutrients into their smallest possible size. Diablo's sequestering formula improves absorption time while ensuring that the nutrients are absorbed intact. When you combine an earthen mineral base, nano emulsion technology, and Diablo's proprietary sequestering formula, you get the Diablo "Smart Nutrients" advantage.
Diablo Nutrients derives its name from the founders' beloved family dog, Diablo. If you see a dog rocking a nice pair of shades anywhere on a Diablo Nutrients product, chances are it's Diablo himself. Sadly, Diablo has passed on, but years of research and iteration honor his legacy. Diablo Nutrients embodies the philosophy of constant iteration, fielding a science and development team to maximize the effectiveness of their nutrients. Diablo Nutrients likens it to using an old box TV from the early 2000s vs a present-day TV with an OLED display. Fertilizers that haven't changed in the past ten to twenty years will certainly allow your plants to grow, but only the continuous research done by Diablo will result in a beautiful garden with vigorous and fast-growing flowers, plants, and vegetables.
The Diablo Starter Kit contains a research-backed gamut of 10 products to grow a minimum of 1-5 plants, plus a promotional thank you gift. Products are listed below.
Monster Grow
Monster Micro
Monster Bloom
Monster Thrive
Monster Cal
Monster Frost
Monster Rootz
Monster Blaster
Monster Flower
Alpha Rooting Gel
Additional information and purchase options can be found at Diablonutrients.com or by email at info@diablonutrients.com.
Joshua Nichols is the MyGardenAndGreenhouse.com associate editor.
Related Articles & Free Email Newsletter
Required Bi-Monthly Maintenance for a Complete Hydroponics System
The Essential Elements of Hydroponic Nutrients
The Percolator is an Easy to Make Hydroponic System