Root propagation is a time-tested and simple technique to clone plants. In its most rudimentary form, root propagation can occur with a plant cutting and a glass of water. With sunlight and a little luck, your plant stem will begin to form new roots. Now, a glass of water and a stem cutting is a novel experience for a new gardener, but serious horticulturists demand more efficient and consistent methods of root propagation. Hormone powders are an answer, but they are prone to clumping, caking, and if a mixture is not working with a particular cutting, you are unable to adjust it.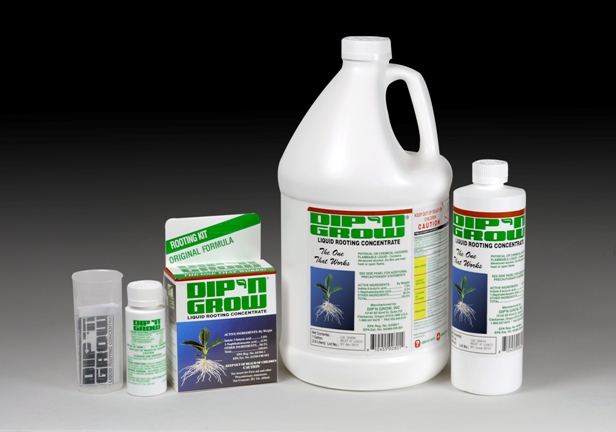 Dip'N Grow is a liquid rooting concentrate that eliminates clumping and caking by simply being a liquid. It's more effective than powders in encouraging rapid IBA absorption, and it couldn't be simpler to apply. All you have to do is dilute the Dip'N Grow concentrate in water, soak the basal end of your cutting in the concentrate for 3-5 seconds, then plant the cutting in a suitable medium. Nearly any cutting is compatible with Dip'N Grow, as it is certified for use on softwoods, succulents, semi-hardwoods, and hardwoods. Basic dilution ratios for these plants are listed below as a starting point.
Softwoods and Succulents: 1:20
Semi-hardwoods: 1:10
Hardwoods: 1:5
In order to gather effective cuttings, it is recommended that root cuttings be collected in the early morning from vigorous strains. When taking the cutting, make sure you snip the root or stem at a 45 degree angle. After taking the cutting, it should be kept moist and cool, always surrounded by ice until you are ready to plant.
John Bakeman, president and co-owner of Dip'N Grow, states that the success of Dip'N Grow comes from the inclusion of IBA and naphthalic acid—the two primary hormones that cause plants to take root. When operating as a successful horticulturist, numbers are everything, and Dip'N Grow was designed to ensure yield efficiency when cloning by providing a gamut of rooting hormones. "You have 1000 cuttings and you use no hormones," Bakeman said. "You might get about a 75% return. Most of the expense is in the labor, so if you lose 30%, that money is gone. But if you use hormones to increase yields up to 95%, you have more plants to sell."
Stepping away from yield targets for a second, Bakeman emphasizes that Dip'N Grow is usable by anyone who wants to see success in root propagation. "Dip'N Grow is a family business. We strive to produce a quality product, fast delivery, and good customer service."
With Dip'N Grow, you no longer have to fret over spacing out powders properly. All you do is dip, and then watch your cuttings grow.
For more information call 866.347.6476 or visit DipNGrow.com.
Related Articles & Free Email Newsletter
Organic Versus Conventional Cloning
Plant Propagation Calendar – What You Should Be Doing Each Month of the Year
Turning your Passion into a Business