Contracting to grow plants for people, organizations, or businesses at retail prices is a good way to make money. When people see your healthy plants, they are likely to talk about how much trouble they have getting healthy plants of the varieties they need. If they are varieties you think you can grow, ask them how many they need and offer to grow them on contract.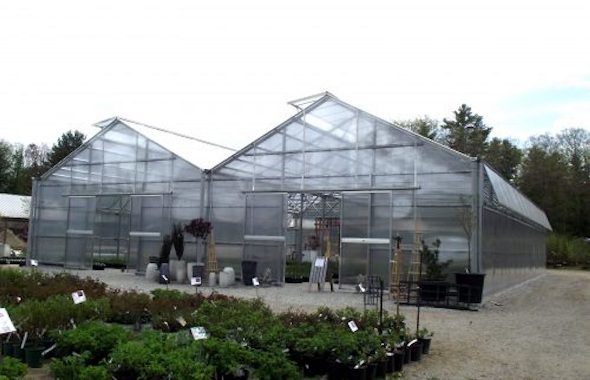 Selling to the contract buyer takes place when the contract is first negotiated. Retail contracts delivered or picked up at the greenhouse require the packaging and labeling agreed on when the contract was ordered. One label per flat is usually adequate unless a flat contains more than one variety. A bill should be presented and payment received when the contract is picked up, unless agreement to pay later was negotiated at the time of the contract. Unused seeds, provided by the customer, should be returned when the plants are picked up.
Over the years, I have had many types of contracts with customers. Smaller contracts are with neighbors or other individuals who want me to grow special varieties of vegetable and flower plants that they cannot find at other greenhouses and nurseries. They include varieties of tomatoes, peppers, broccoli, cabbage, melons, petunias, zinnias, and an assortment of perennial flowers.
One contract, repeated for several years, was for flowers used in dried flower arrangements. Another was for selected varieties of perennial flowers for a woman starting a cut flower business. For several years I grew twenty flats of Ultra Pink petunias for a retired horticulturist who requested specific varieties. Neighbors regularly request garden plants and often supply seeds.
Over the years, I also have had retail contracts with local landscapers and vendors who grow and market vegetables. Their orders have ranged from ten to forty-five flats, and usually consist of several varieties.
A regular customer wanted her yard to be in full bloom the following summer for the wedding of her son. Before I ordered seeds in January, we discussed the color scheme and what flowers would be in bloom at that time. She ordered several hundred dollars' worth of plants and picked up several flats each week as she had time to plant them. It was a one-time contract that paid well, gave me the opportunity to add a few new varieties to my regular line, and was a lot of fun.
Some highway departments have difficulty finding a steady supply of healthy plugs for their road construction projects. The local Extension office and the county soil conservation department often provide flats of plants for soil stabilization projects and will buy them locally if they have a reliable source. They may be willing to give you the names of people who need soil stabilization plants, so you can contact them directly.
Contract customers provide seeds that I normally do not order. Sometimes, individuals bring me seeds that they have saved. If I am expected to provide the seed, contract orders must be placed before January.
Consider carefully before accepting contracts with people who want you to grow a few packs of several different types of plants. Growing mixed plants in one flat can be very time consuming. There are a few ways to accommodate such requests with very little extra time and expense. If they are plants you already grow, place distinctive labels in the flat after it is planted to remind you not to sell those packs to someone else.
Sometimes contract customers request several varieties of one type of plant, such as four varieties of tomatoes. If there are enough varieties of tomatoes to fill a flat, I will accept the contract, but I never mix tomatoes, peppers, broccoli, or flowers in the same flat. These plants germinate under different conditions and grow at different rates, causing some plants to become shaded or completely covered by bushier and faster-growing varieties.

You may find yourself in a similar situation. If it is a dear friend, a valued neighbor, or a potential customer who may buy on a larger scale next year, the extra time spent may be well worth it. Only you can decide when small mixed-flat contracts merit your extra time.
When a customer requests less than one flat of a variety, I sometimes buy enough seed to plant one or more flats. If one person likes a variety well enough to special-order it, other customers also are likely to buy it. But this is not always true, so use your judgment.
Customers should give you the dates they want plants to be ready to transplant, the age of the plant desired, and the size of containers preferred. Calculate when seeds should be started and germinate them at the proper time. Customers will pick up their orders on the agreed date.
Several varieties of seeds are extremely difficult to germinate. Some require special growing conditions or the application of regular amounts of fungicides. Special instructions may appear in the catalog or on the seed package, but not always. If you are unfamiliar with the seed type, call the seed company and ask for germination instructions and growing conditions before you order. If the seeds require special, time-consuming attention or will be difficult to grow in a natural greenhouse environment, do not accept the contract unless you have compelling reasons or are able to charge more for your extra labor.
The best thing about retail contracts is that they provide a guaranteed market and the price is significantly better than the price you will receive on wholesale contracts. Retail prices are charged for small contracts. A discount can be given on larger contracts, if the customer asks. When customers supply seeds or their own containers, that cost can be subtracted from the retail price. When customers come to pick up their pre-ordered flats, they may buy additional plants and vegetables when they are available.
Gini Coover is the author of The Natural Greenhouse, Growing Plants and Food for Profit. She has grown greenhouse plants and vegetables for over 30 years.
Related Articles & Free Email Newsletter
Begonias Are a Great Plant for Your Greenhouse
Growing Strawberries Is Not Just For the Birds
Turning your Passion into a Business
Subscribe to our Free Email Newsletter