We're all waiting for springtime to slowly arrive. We've had enough of winter and we're ready to witness the rebirth of life in our gardens. Everyone is looking forward to transplanting seedlings, preparing garden soil, and enjoying warmer weather that produces a bounty of our favorite vegetables.
With the rebirth of enthusiasm that springtime often brings us, perhaps we should consider rethinking our approach to vegetable gardening. Why not? What do we have to lose other than old habits? And, perhaps we'll learn a thing or two that can help us become more productive and more satisfied as well. It was Abraham Lincoln who encouraged us to "think anew and act anew." I believe this to be good advice, even for the vegetable gardener.
Let me suggest that extending our season for growing and harvesting be part of what we rethink this year. After all, an extended season provides many benefits – an earlier start, greater production, longer production, and a year-round harvest if we so choose.
Here are a few ideas that you might consider to begin rethinking what the "vegetable gardening season" means to you. With the application of a little know-how and a little technology, it's possible to give yourself a much broader season for growing and a much longer season of harvest.
A Cloche or Row Cover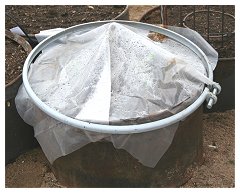 Start early by using a garden cloche or row covers for seedlings. I like to recycle two-liter soft drink bottles, and sheets of 4 to 6 mil plastic and a staking device to create cloches throughout my garden. They act like miniature greenhouses to help capture sunlight and turn it into warmth. They also help capture the natural energy given up from the ground to help keep seedlings warm so you can get a jump start on the traditional growing season.
Using a cloche or row cover might help get things started a month in advance of your normal growing season. Try this with cool weather crops like lettuce, radishes, kale and broccoli. Establish the enclosure for a few sunny days before planting seeds or transplanting seedlings. This will ensure the soil is warm enough to sprout seeds and encourage root growth. Also, be certain to vent the enclosure on warm and sunny days so you don't overheat your plants. This article explains how to make a cloche from just about anything.
Raised Garden Beds
How about employing raised beds in a portion of your garden? They heat up quickly because they expose more of the soil to warmer air. From the perspective of your seeds and plants, warm soil means much more than warm air. Raised beds also help define a separate growing space for plants. They also make it much easier to define walkways and avoid stepping among your plants when there are clearly defined spaces for growing.
In addition, a raised bed can make your vegetable gardening more comfortable by allowing you to kneel or sit while tending the plants instead of stooping over or crawling around on all fours. A bed that is quite tall can allow you to do almost everything from a sitting or standing position, and that is very comfortable indeed.
When using a raised bed, just remember that the exposed sides will raise soil temperatures quickly during the day, but they allow soil temperatures to more readily cool at night and during cold weather. This means they're most useful in the spring and summer but can create an unwanted cooling effect on your soil if you're trying to extend your gardening season into the late fall or early winter. This article discusses a fool proof way to prepare the soil in your raised bed garden.
Terracing
How about terracing on a south facing slope for greater warmth for your early and late season crops? With the sun naturally dipping low on the horizon in spring and fall, we can take advantage of this by creating a micro-climate for our gardens on a south facing slope by terracing the ground. Terracing keeps water from running off and exposes more of the plants to sunlight that comes in from a more southerly direction.
By using a terrace on a south facing slope, you can make use of land that otherwise might go unused. It also reduces concerns about taller plants shading shorter ones because the terracing naturally places one row of plants higher than another. Terracing also promotes full sun for your vegetable plants throughout the summer by providing more space between plants, as each row needs space for plants and a walkway. This article discusses how to build a terraced garden.
Garden Structures
Another idea to consider is the use of garden structures like tunnels and greenhouses. They don't have to be elaborate nor large to make a big difference. If you're dealing with wind, hail, bugs, torrential rains, hungry critters or a short summer season, a simple greenhouse or garden tunnel can make a big difference. My unheated greenhouses extended the growing season as well as offer much needed protection from the drying effects of winds.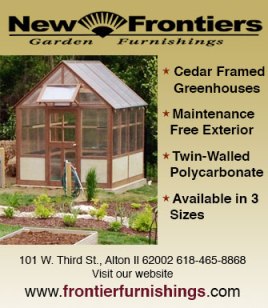 With a protective garden structure, it should be an easy matter to start vegetable gardening a month in advance of what's normal in your area. This is possible because simple garden structures convert sunlight into heat, and its warmth that your vegetables are seeking. In addition, the season of harvest can be extended by at least one month by capturing heat from sunlight and offering protection from frost.
Cold Hardy Vegetables
My last suggestion is to experiment with cold hardy vegetables and start pushing the limits. If you believe that vegetable gardening is only for the spring, summer, and fall, I'm here to tell you that I've harvested vegetables after below freezing weather. I've also harvested after below zero weather. The idea that vegetable gardening is a summertime activity is largely a matter of tradition and belief, both of which you can change if you start to experiment.
There are many crops that will tolerate cold temperatures and still provide a harvest for you well into the winter. The keys to success are selection and protection – select cold hardy varieties like kale, broccoli and greens, and offer them simple protection like cold frames, garden tunnels and unheated greenhouses. You'll be amazed at the difference in yields and the extension of the growing season that simple protection offers.
Remember that some vegetables, like kale and broccoli, thrive in cool weather. In areas with short growing seasons, they can be planted in the spring or summer and coaxed into the winter where you can still enjoy a harvest long after everything else in your traditional summer vegetable garden has found its way onto the compost heap. If we make use of varieties that favor cool weather and tolerate cold weather, then we can extend our season of harvest without battling the natural change of seasons.
If we allow ourselves to think afresh regarding our vegetable gardening, we'll discover many and varied ways in which we can increase yields, improve quality, and extend the season for growing and harvesting. Helen Keller advised us that life is a bold adventure or nothing at all. So, take heart and be bold as well as adventurous in your pursuit of new cold hardy varieties and techniques for extending the season for growing and harvesting produce.
Clair Schwan is an experienced vegetable gardener with open sun gardening beds and three quality greenhouses of his own design and construction. He grows over 100 varieties of vegetables and provides fresh produce year-round for himself and his family.
Related Articles & Free Email Newsletter Sign Up
How to Grow Effectively in a Greenhouse Year-Round
The Top 10 Reasons to Build Your Own Greenhouse
Using Thermal Mass to Heat a Greenhouse
Shop for High Quality CBD Products with No THC
Subscribe to our Free Email Newsletter