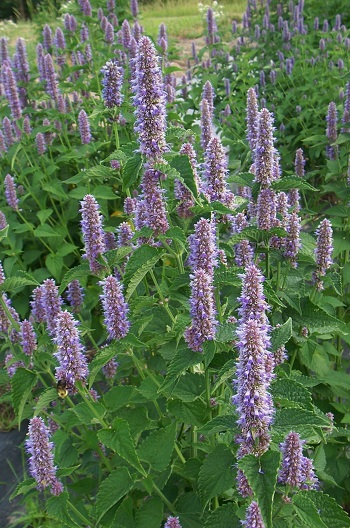 Plant Name: Agastache foeniculum
Common Name:  Anise hyssop
Light Needs: Full direct sunlight is best but it can tolerate partial shade.
Best Temperatures: Best grown out doors in Zones 6-10, but can be grown in a greenhouse in colder zones.
Water and Humidity Needs: Allow it to dry between waterings.
Growing Guidelines: Harvest fresh leaves as necessary throughout the summer if desired as an herb. The best time to collect leaves is just before blooming.
Common Problems: Spider mites and aphids.
Propagation: Tip cuttings and seed.
Interesting Facts: The leaves have a distinctive licorice scent and flavor. It attracts bees to the garden, and it is an excellent herb. Its common name is derived from the sensory characteristics of this herb – both its anise-like fragrance and its blooms which are similar to those of the true hyssop. The fragrant herb is also known as Blue Giant hyssop, Fragrant Giant hyssop and licorice mint.
Anise hyssop has been used by Native Americans as a breath-freshener, as a tea and as a sweetener. An infusion of the herb was used for chest pains, and the roots were used for coughs. Agastache is used in Chinese prescriptions for heatstroke, headache, fever, and angina.
Be careful if you have pets. Hyssop oil is toxic to dogs and other animals when ingested. It is used topically to prevent Lyme disease in dogs when applied to tick bites. Consuming the plant in large doses can cause respiratory tract irritation and seizures.
Related Articles & Free Email Newsletter Sign Up
Top 3 Indoor Plants for Stress Relief
Tropical Pitcher Plants for your Home and Greenhouse
Use Bucket Gardening to Create More Space in a Greenhouse
Shop for High Quality CBD Products