I have been gardening in a greenhouse for many years and I have several tools that are essential to keeping my plants happy. At first thought you would think outdoor gardening tools will work well in the greenhouse, but this is not always the case. Tools meant for the outside garden are heavy duty and are usually overkill in the greenhouse. An example is that every outside garden uses a handheld spade for planting because it can battle roots and rocks when you are digging a hole. But plants in a greenhouse grow in light fluffy potting soil so there is little need for a spade. I use my hands, or an old plastic flowerpot as my potting soil scoop.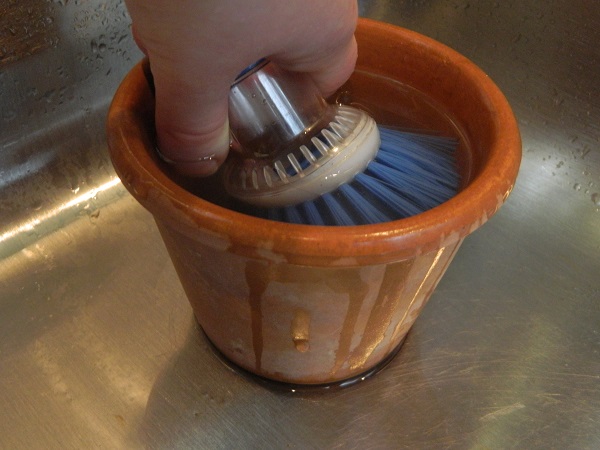 Wandering Wand
Most outside gardens have nozzles on a hose. The greenhouse also needs a nozzle, but not a standard one. When I started working in the greenhouse, I had a typical trigger nozzle which could not reach the hanging baskets. Many greenhouses have plants on shelves or hanging baskets and they need high reaching water. For this reason, I have an extended watering wand on this list. The long wand, 24" or more, will reach the tall spots while comfortably watering flowers on benches. Life is even better if you get a wand with multiple settings. I use the jet spray setting for removing mealy bugs from my orange tree, the soaker is used on my hanging baskets and the mist position brings humidity to the orchids.
Pruner
A pruner is a necessity in the greenhouse. There will always be dead leaves and flowers that need removed from plants. Sometimes your hand can remove the unwanted foliage, but other times you need something sharper. Make sure the pruner fits comfortably in your hand. I like all my tools to have a hook at the end so I can thread them with string and hang them on the wall. My tool collection features a pruner for soft foliage plants like orchids and another pruner for woody stems like the orange tree. If the manufacturer offers a cover for the tip, I advise you buy it. I always put the pruners in my pockets inevitably stabbing myself or adding holes to my clothing. The cover will protect you from the sharp tips.
Bucket
After you deadhead the flowers, you will need to transport them to the compost pile so you will need a bucket in the greenhouse. I started with a 5-gallon because it carried a lot of volume. After a few months I got tired of the 5-gallon because I struggled to carry it. Then I switched to a 2.5-gallon which is easier to move when it is filled with water or plant debris. The bucket carries my tools, fertilized water, old flower blooms and cut flowers.
Broom
Some of the dead leaves will fall out of the bucket and onto the floor. The same thing happens to the potting soil. Eventually the floor becomes dirty, and you will need a broom. I use two brooms in the greenhouse: a push broom and a household broom. The push broom is useful when I have made a large mess on the floor, like when repotting a palm tree. It is also handy for reaching far below a bench. The household broom is used for normal sweeping of the floor.
Dustpan
Now that your piles of dirt are made you need a dustpan and broom which I use nearly every day. I am constantly sweeping the floor and using the dustpan to finish the process. I also use these tools on the potting bench to clean up all the potting soil, plant leaves and left-over coconut chips.
Pot Brush
It was only in the last year that I discovered a pot brush, and I now wonder how I did without it. This is my favorite tool for washing pots. The brush fits perfectly into 4" containers and does a great job scrubbing the dirt off large terra cotta flowerpots.
Scissors
I have a pair of scissors devoted to just the greenhouse. There are always plastic bags to open, or packaging that needs cut. I used to use my pruner, but it often did not cut through plastic bags. In the end I got a regular pair of scissors, and it saves a lot of frustration.
Storage Tubs
It is amazing how quickly things accumulate in the greenhouse and to avoid unsightly piles on the floor I use storage tubs. Cardboard boxes fall apart and grow mold from the humidity in the greenhouse and wood will eventually rot, so plastic is the best option. I have one large outdoor mini storage shed, which houses individual plastic tubs loaded with seedling mats, tomato cages, flowerpots and plastic trays.

Tool Holders
Another storage item that I love is my wall mounted tool holders. I have individual hooks that hold my brooms, rakes, and shovels. Next to my potting bench is a single organizer with small slots for my measuring cups, pruners, and bottle brush. It is much easier to have your tools mounted nearby than to dig through drawers of clutter.
Measuring Cups
Measuring cups are a necessity in a greenhouse. Since your plants do not receive fertilizer from rotting leaves or animal droppings you must provide the fertilizer. Whether you use powdered chemicals, or organic fish waste, everything needs to be measured. I do not want to burn my plants by over fertilizing, so I keep 2 sets of measuring cups on hand. One is a set of teaspoons, and the second has cup sizes. Of course, they both hang on my tool organizer for quick access.
Markers
My last essential is paper and Sharpies. I like to keep a record of my plants, especially my orchids. When a plant is repotted, blooms, or has bugs I write it down on paper. Sharpies work well for labeling plants. Ink from a pen does not last against water and daylight, but a Sharpie does well. Plant labels can be written in Sharpie and you can label bins and record the dates of an orchid bloom.
Lyndsey Roth is an experienced gardener and greenhouse grower.
Related Articles & Free Email Newsletter Sign Up
How to Grow Pineapple in a Greenhouse
The Value of Fall Cleaning in the Greenhouse
Use Bucket Gardening to Create More Space in a Greenhouse
Shop for High Quality CBD Products
Subscribe to our Free Email Newsletter