The family garden is in full production in July and August, but in September and October supply and variety begins to decrease. By November, little but root crops and greens remain in many parts of the country. A little time planning now, can ensure a full supply of vegetables and berries all winter.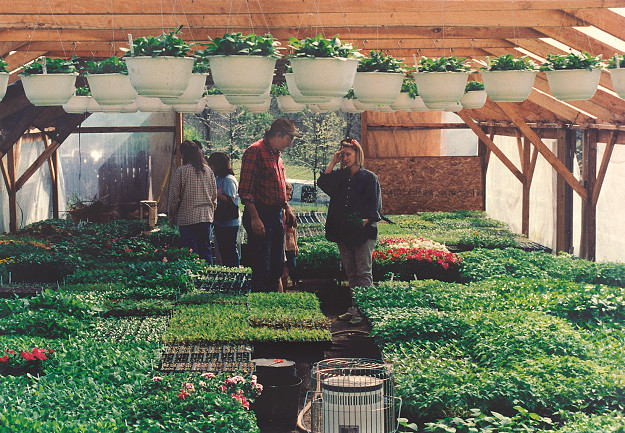 Supermarkets are filled with vegetables throughout the winter, produced in commercial greenhouses and shipped in from other parts of the country and world. Though tempting to customers, most of these vegetables are produced using a continuous supply of synthetic pesticides and fertilizers. New varieties are bred to grow under greenhouse conditions and survive long-distance shipping. Chemicals are applied to produce to add color, to slow natural deterioration, and to discourage insects and molds during storage. Customers are provided a wide variety of attractive greenhouse vegetables that contain the residue of numerous chemicals, are rarely fresh, are occasionally contaminated, and are often tasteless. Organically grown vegetables may be free of most of the chemicals, but unless they are grown locally, they may not be very fresh.
You can avoid the supermarket produce section all winter long with a small greenhouse. An abundant supply of fresh produce can be available until the next spring and summer growing seasons. By using double and triple insulating covers, little or no heat may be required. Insulating blankets can be purchased in several thicknesses. Clear plastic can be used anytime, and even old blankets and bed sheets can be used at night.
The easiest vegetables to grow are varieties that produce well under cool conditions. They include peas, lettuce, spinach, onions, leeks, garlic, broccoli, cabbage, cauliflower, parsley, Swiss chard, Brussels sprouts, zucchini squash, and a large assortment of greens, Chinese vegetables, and root crops. In July, onion, chard, broccoli, cabbage, and cauliflower seeds can be planted in small pots or cell packs for transplanting into the greenhouse in September.
Greens that mature more quickly can be started about 3-4 weeks before you plan to transplant them. They also can be started periodically throughout the fall/winter/spring seasons, or planted directly into the greenhouse soil, all but the coldest part of the winter. When harvesting opens empty spaces, new seedlings can be transplanted for future harvests.
Seeds for root crops can be planted directly into the soil, raised beds, and planters, July through September, provided the soil is kept moist for germination and continued growth. They can be planted intensively or in rows 8-12 inches apart. For example, a 3 foot by 6 foot space will provide far more beets than most families will need, first thinning out greens and small beets and then the larger beets to make room for smaller ones to mature.
To hasten seed germination and discourage weeds, cover the seedbed with newspaper, plastic, or another material that prevents light from penetrating and keeps moisture in the soil. If black plastic will overheat the soil for germination of some varieties in July and August, dust it with finely ground agricultural lime, or cover it with a light-colored or reflective material until germination. As the germination date approaches, check under the cover every morning and evening. At the first sign of germination, remove the covers, and keep soil moist until all seeds have emerged.
Day neutral strawberries can be planted along the sides of the greenhouse, under larger plants when they receive 6-8 hours of sunlight or given their own bed. They will continue to produce right through the winter, provided their blossoms are not allowed to freeze at night. Different varieties produce on different cycles, so planting 2 or more varieties will provide a more continuous supply of berries.
Tomato, pepper, eggplant, bean, and cucumber plants will produce in the greenhouse long after outside plants are gone. They can remain in the greenhouse and be covered late in the afternoon with insulating blankets to protect them until the coldest of weather. Peppers, planted in early spring in the greenhouse, will decrease production in late summer, increase in size and set an even larger crop of peppers for the fall. To get heavier production of most other varieties, new plants can be started in June or July and transplanted into the greenhouse in August or September. Check the period required from germination to production and add a couple of weeks to compensate for cooler weather and shortening days.
Cold sensitive plants can be confined to a small, enclosed space and heated when temperatures in the greenhouse drop too low. Space heaters or heat lamps can be used inexpensively in small spaces to keep temperatures above freezing. Wood or biofuel stoves can be used to heat small greenhouses when fuel sources are easily or inexpensively available.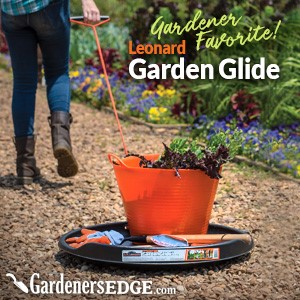 Plants requiring more heat also can be planted in containers and moved inside at night. They can be placed in a sunny window or under lights during the coldest part of the winter. They can be returned to the greenhouse during sunny days and remain there after the coldest of nights have passed.
Fourth of July, a high-production 4-ounce tomato, will continue to produce for many months in the greenhouse if kept above freezing. Tumbler tomatoes, Ultra Pak cucumber, and other varieties bred for containers will produce in hanging baskets and pots. Hanging baskets of vegetables can be hung in the greenhouse during the day and moved inside at night.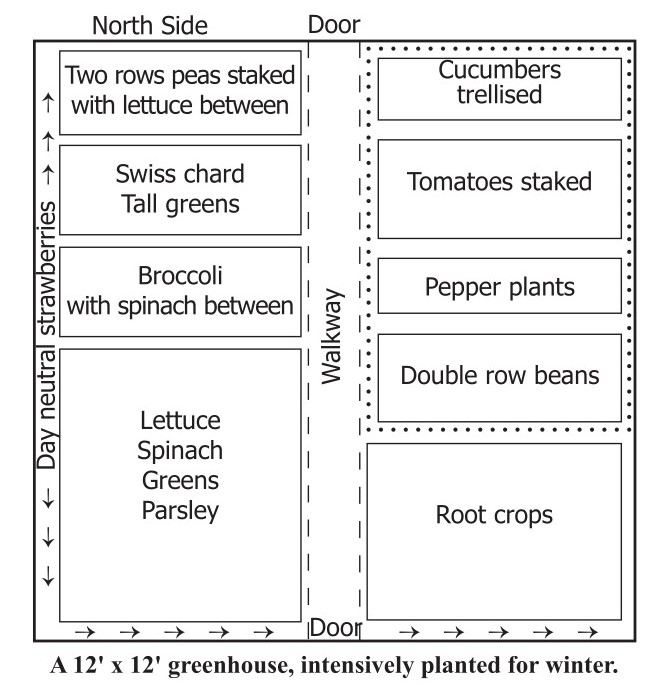 If you love fresh-cut bouquets, there are varieties of flowers that will continue to produce in the greenhouse when protected from hard freezing weather. They include carnations, dianthus, calendula, delphinium, larkspur, snapdragons, and sweet peas.
To guarantee a supply of fresh, nutritious vegetables and berries until your outside garden is producing again, take time now to layout a floor plan for your winter greenhouse garden. The example of a 12' x 12' greenhouse, intensively planted with vegetables and berries, can be changed to include your favorite varieties. Cucumber, tomato, pepper, and bean plants are inside a separate area for easier heating. Make sure heated areas can be opened during the day to prevent overheating and allow for good ventilation. Plan your seed germination and transplanting schedule and order seeds you may need. Using intensive planting and replanting to replace harvested vegetables, 100 to 200 square feet of space will provide the average family with more than enough vegetables through the winter.
Gini Coover is the author of The Natural Greenhouse, Growing Plants and Food for Profit. She has grown greenhouse plants and vegetables for over 30 years.
Related Articles & Free Email Newsletter
3 Great Types of Year-Round Greenhouse Produce
A Beginners Guide to Growing Vegetables in a Greenhouse
The Best Vegetables to Grow in a Greenhouse
Subscribe to our Free Email Newsletter