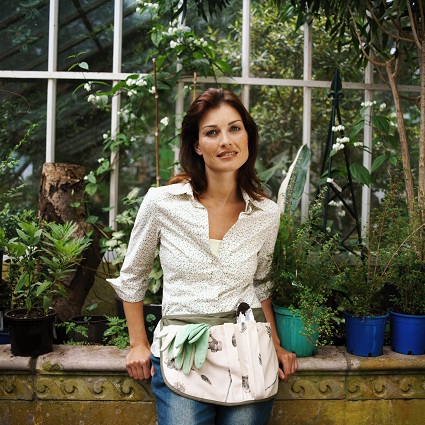 Early to mid fall is the perfect time to think about getting your greenhouse ready for the winter season. While late September and much of October is early to utilize the greenhouse to its full potential, it's not too early to get prepared.
Now is the perfect time to walk your gardens and decide which plants have burnt up and should be thrown away, and which you can still salvage through the winter in the greenhouse. In my zone 6, I have lost a lot of annuals, even with the constant watering that my well allows. I recently took a survey of the different beds and discovered two crucial things: 1.) I have flowers that look terrible, but I can take root cuttings and propagate them, and 2.) I identified the flowers that I can deadhead, saving the seeds for next year.
If you have not done so already, it's not too late to do your root cuttings. My greenhouse favorite for propagation is geraniums. I went all over the yard and took cuttings of every different color and variety of geranium I had. Make sure you take notes and label appropriately for color if your preference is to plant by color in the spring because these won't bloom until late winter or early spring.
If the heat has left your coleus in bad condition, then you have two choices. You can leave them in their beds for now and then dig them, pot them, and move them to the greenhouse in late September or October. The alternative is to take cuttings. Coleus is one of the easiest plants to root either in plain water, or in pots of perlite. Please note that they will have stronger roots when rooting in perlite, but I have had success with both processes. Since this is one plant that seems to be impervious to the heat this summer, I am letting them stay in their beds and then later in the season I will bring in the smaller plants and take cuttings of the larger ones. Next spring, my beds of coleus should be plentiful!
As I was deadheading my annuals that are pretty much burnt to a crisp, I was rewarded with many seed heads. I have gone ahead and planted some seeds in trays so these flowers will bloom in the greenhouse this winter. I have stored the rest to direct sow in the gardens next spring. Some of the seeds I collected include Queen Anne's Lace, Cosmos, Shasta Daisy, Rudbeckia, Purple Coneflower, Hollyhock, and Yarrow. The perennials can be scattered this fall before the first frost.
You Can't Save Everything
As gardeners we want to keep every single plant and flower we have. It's difficult to yank a growing flower out of the soil by its roots. But you can't save them all. I know I don't have room for everything in my greenhouse. So, do your garden walk, and take notes and keep only healthy plants.
Clean Your Greenhouse
Do not bring pests and insects into your greenhouse. Use bleach or vinegar and water to get your greenhouse sanitary. Keep your shade cloth up for now because it can still get hot in late September and early October but scrub the ceiling and walls. Don't install bubble wrap yet but get it ready. If you use greenhouse paint rather than shade cloth, it's a good time to clean it off. Clean your trays and pots before potting any plants from the gardens to be moved into the greenhouse.

Inspect Flowers
Take a careful look and use a magnifying glass if you need to and inspect the plants you want to keep. Take extra care to look underneath the leaves. This is a favorite place for pests to hide. I then move all the plants I want to keep and gather them into my small greenhouse and then using a commercial insecticide, I fog the entire building. Keeping all the doors and windows shut tight for two hours. While I do this, I then fog the big greenhouse after it has been cleaned. After the two hours I open the door for one hour and then the plants are ready to be moved into the big greenhouse for the winter. By doing this you will be secure in knowing that you will not introduce destructive pests into the greenhouse that can destroy your entire inventory.
Becky Miller has been a passionate gardener for over twenty-five years and has two greenhouses.  You can follow her adventures of incorporating edibles in her flowerbeds and creating an old-fashioned cottage garden at her historic home in Wichita, Kansas at Kansasbungalow.blogspot.com.
Related Articles & Free Email Newsletter
Winter Greenhouse Gardening Tips
Using Thermal Mass to Heat a Greenhouse
Subscribe to our Free Email Newsletter