In a recent article we introduced the idea of a needs analysis to help us determine whether a greenhouse is warranted in support of our gardening efforts. Let's suppose for the moment that we've found sufficient need for a greenhouse to warrant further examination. Now let's look at factors surrounding design and materials that might be influential with respect to our decision making. It's not like picking out a pair of socks. There are many considerations in this general area, so we should take a closer look.
Form and Function
There are five basic shapes that a greenhouse can take:
A traditional design or a structure that resembles a house, shop, or storage building
A Quonset hut style
Something sub-terrain in nature
Other unusual shapes
There are compelling reasons to select each one of these. Let's me briefly touch on the pros and cons of each.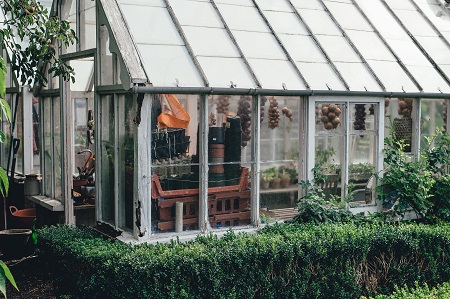 Traditional Design
A traditional design that takes the shape of a house, shop or storage building with a peaked roof can be very elegant and most likely will appeal to those who value appearance as much as functionality. In a residential setting, such a structure can add both value and curb appeal to the property. This design makes good use of interior space since the walls are typically tall and vertical, thus providing good head room and growing room right out to the sides and ends. With a steep roof, the design can also naturally shed snow. The downside is that structures having the most visual appeal are usually the most expensive, and if they are relatively tall, they can be difficult to keep cool because of their extra capacity to capture sunlight that turns into heat once it is inside the structure.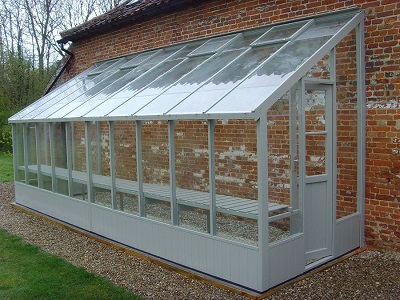 Lean-to Designs
Lean-to designs are essentially the left or right half of a greenhouse incorporated into the side of a larger and sturdier structure. The lean-to design can make good use of the support and thermal mass of brick and concrete buildings to which they are attached. They can be an add-on feature to a home or shop or designed as part of the original construction.
Quonset Hut Style
Quonset hut style structures are a simple and strong design – think of the top half of a tube, and you have the idea. Greenhouses, high tunnels, and garden tunnels often take this form. It is a design that's conducive to homemade projects, temporary structures and even structures that can be moved about the garden. For larger structures, ventilation requires roll-up sides as the rounded sides/roof are not conducive to installation of windows or vents. The rounded roof can collect snow more easily than a steep straight roof, so they need to be built to withstand heavy snow accumulation.
Sub-Terrain Structures
Sub-terrain structures are much like a lean-to built into a hillside. The idea is to make use of low angle sunlight and natural ground source heating to maintain adequate warmth inside during winter months. It's a natural design for winter gardening on a south facing hillside. This design can also help you fend off high winds. One of the drawbacks of this design is the amount of excavation required, and it also may be a bit inconvenient to access as it is at least somewhat underground.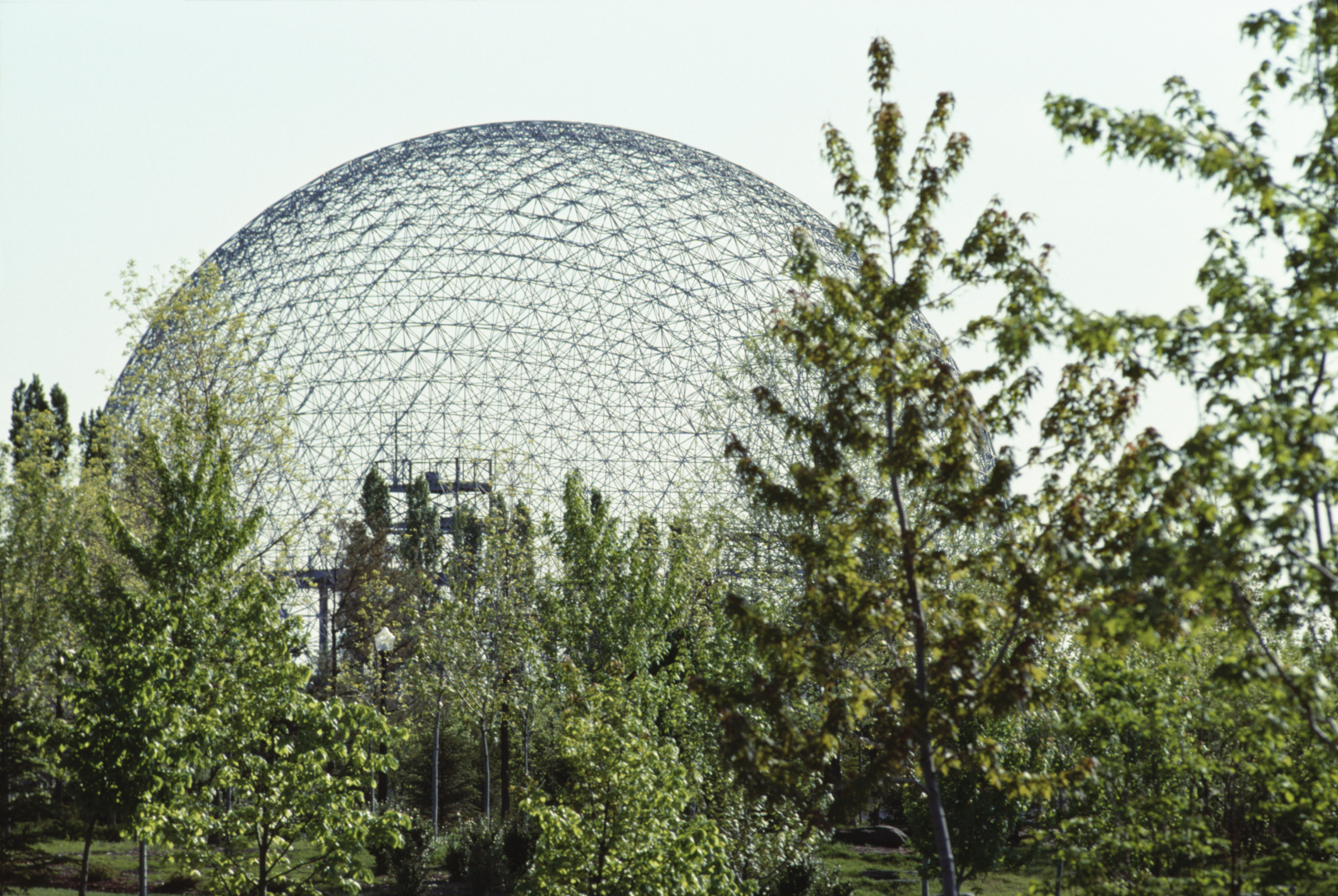 Other Unusual Shapes
In the "other unusual shapes" department, I would include geodesic domes, gazebos and anything else that wasn't originally intended to be a greenhouse but seemed to offer good potential for a conversion or a novel project for original construction. The advantages of these unusual shapes are more in their visual appeal than in their useful form or function. What looks appealing on the outside will not always offer sufficient room, optimal exposure to sunlight, convenient organization of growing space, or proper orientation of the structure.
Size Matters
They say that everything is bigger in Texas. Well, you don't have to live in Texas to enjoy the benefits of a big greenhouse. My general rule is to figure out what size footprint you need for growing things, and then double it. That should be about the right size for your greenhouse. Here's why I suggest this approach to sizing:
Smaller structures heat up too quickly and cool down too quickly. Think of how temperamental a cold frame is. If you don't quickly vent them, they'll cook your plants in a matter of a couple of hours. The same holds true for a small greenhouse, so bigger is better.
You need room to work in addition to the space allocated for growing. A greenhouse footprint based on sufficient room for growing plants is a bit like space planning for an office. It's nice if the desk fits well in the room, but you also need room for your large office chair, a bookcase and a filing cabinet. And you would like to be able to push back from the desk and lean back in your chair as well. All of this requires "swinging room."
Don't forget about room to relax. When you're taking a break from gardening, you'll want some space where you can sit down and enjoy the splendor that you've created. What could be more enjoyable than relaxing in a comfortable chair and enjoying the sights and smells of your herb garden or tomato jungle?
Lastly, you need room for features like tool storage, a hose rack, walkways, a sink for rinsing off your root vegetables, and perhaps a worktable or space dedicated to starting seeds in covered, lighted, and heated seedling greenhouse within your greenhouse. Also, don't forget that a drum wall for passive solar energy storage takes up about four square feet per drum. When you start to think about it, there's plenty of reason to have room in a greenhouse for things that aren't green. You simply can't expect to "dance" in a hall closet. You need room to spread out.
I'm not advocating a huge greenhouse, but we need to be aware that there are people, accessories, resources, tools, walkways and activities that need to be included in our indoor growing spaces – along with all the plants. If you forget about room for these types of things, you'll soon come to the conclusion that you built a structure that simply isn't big enough for your needs and long-term interests.
Pushing our way through crops, just to do a little harvesting, won't be endearing to any of us who started out with the idea of enjoying our time in the greenhouse. If you add to the space, you'll add to your enjoyment, so don't scrimp on the square footage.
Framing of Metal, Wood or Plastic
No matter the general design, the structure will have a frame. Generally, frames are made of metal, wood, plastic, or some combination of these materials. Here are some of the general considerations for each type of material.
Metal is strong, rigid, and long lived and a good choice for a permanent structure. Steel can be treated to resist corrosion, and other alloys are naturally corrosion resistant without treatment. Metal is a good choice for a kit but can also work well for a homemade structure if you have the right set of skills.
Wood is strong, lightweight, and easy to work with. It will require paint to extend its life, as it suffers in moist and warm environments if is not treated to resist the elements. Wood is a good choice for a homemade greenhouse because it's easy to work with, and most of us have at least some experience with it.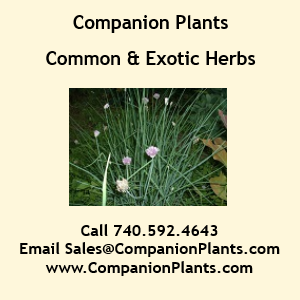 Plastics have come a long way from simply being a good material for covering a greenhouse. Smaller hobby greenhouses can largely be made of plastic, but there are several drawbacks. First and foremost, plastic isn't usually a good structural material. That means, only smaller greenhouses can be made of it. Due to its flexible nature, plastic can be a bit flimsy, and it is susceptible to cracking and becoming brittle over years of being exposed to ultraviolet radiation.
Kit or Homemade
Kits are a good choice for someone starting out in greenhouse gardening. They are easy to assemble, and their strength is known. Materials are often specialized to withstand stress, corrosion, and ultraviolet radiation. If you are a little timid about building something yourself, a kit is a good way to go. There is no guesswork involved, and if you have help and can follow instructions, your chances of success are good.
Another advantage of a kit is simply that manufacturers will naturally have accessories available that fit what they offer as a kit. Things like doors, louvered vents, exhaust fans, earth anchors and glazing materials are often manufactured for use in several different kits, so it can be a breeze to identify a full complement of accessories and features for a particular greenhouse.
Homemade means you need to create a design and build it. The design part isn't necessarily difficult, but it's filled with a fair number of uncertainties, so it's not a project that the shy should embark upon lightly. One of the biggest challenges is to design something that is sufficiently strong to withstand high winds, snow load, and doors and heavy equipment that might be mounted in the walls or hung overhead. On the other hand, designing it yourself can also provide an opportunity to build in sufficient strength for those unusual places like Kansas, North Dakota, Iowa, and Wyoming, where strong wind is a way of life.
Regardless of whether you choose a kit or attempt something homemade, factors such as snow load, wind, hail, and critters in your area might be outside the norm and therefore need special attention. That can mean augmenting your kit or designing something from scratch to handle the out-of-the-ordinary.
Glazing Materials
In general, we have glass, polycarbonate, and greenhouse film to choose from. If we build our own greenhouse, we will build into the design the type of glazing we prefer. With a kit, our choices are largely made for us. Regardless, it pays to know a bit about each material so we can make wise choices.
Glass is a traditional material for greenhouses. It is strong, clear, impervious to the effects of ultraviolet light, and lasts generations under normal conditions. It is also ideal if you think you're going to whitewash it to reduce solar gain during the summer months. For me, glass oozes with the idea of permanence. If elegance and property value are high on your list of "drivers" for selecting a greenhouse, I suggest you limit your considerations to glass glazing.
On the other hand, glass is expensive to buy, expensive to replace, heavy, and potentially dangerous. In a hailstorm, I would not want to be standing inside a greenhouse that has glass overhead. And, I would not want to have to clean up the mess made from shattered panes.
Polycarbonates are another glazing material that you need to be familiar with. They are strong, provide good light transmission, and are resistant to the effects of ultraviolet light. They are a bit expensive, but double and triple wall designs can offer excellent insulating properties for a glazing material. In addition, polycarbonates offer high resistance to hail damage.
On the downside of polycarbonates, you might need special rails or tracks to fasten the material to your greenhouse frame. And, with double and triple wall construction, if you do not guard against moisture intrusion or accumulation of dust and insects between the layers, you can reduce light transmission.
Greenhouse film comes on a roll in solid and woven varieties. Thickness varies according to the strength needed for the job. They tend to be easy to apply, lend themselves to various methods for fastening, and even allow a double layer to be used so air can inflate the space between the layers to act as a type of insulation that surrounds your greenhouse.
As glazing goes, greenhouse film is relatively inexpensive, but it does need to be replaced periodically. More traditional films might last five years or more. Heavier film could last a few years longer. Much of the life expectancy depends on the intensity of ultraviolet radiation in your area. Other factors that can reduce the useful life of this type of glazing include winds, hail, shovels, birds, critters and people.
Keep in mind that it is also possible to use a combination of glazing on a greenhouse. Perhaps you will have a Quonset hut style structure that uses woven film for a tough, hail-resistant outside layer, standard greenhouse film for the inner layer (if you desire inflatable insulating glazing), stiff polycarbonate to add more rigidity to the end walls, and pedestrian doors that are of a traditional glass storm door design.
Conclusion
So, there you have an overview of the general considerations of design and materials for those who are contemplating a greenhouse in support of their gardening adventures. What looks like an easy choice to the casual observer, starts to get a bit more complicated once you look "under the hood."
Clair Schwan is an avid vegetable gardener who considers his gardens to be important assets. To him, vegetables in the garden are a bit like money in the bank.
Related Articles & Free Email Newsletter
Active Solar Heating for Greenhouses
Making Your Own Cloche from Just About Anything
Passive Solar Heating for Greenhouse Operations
Subscribe to our Free Email Newsletter