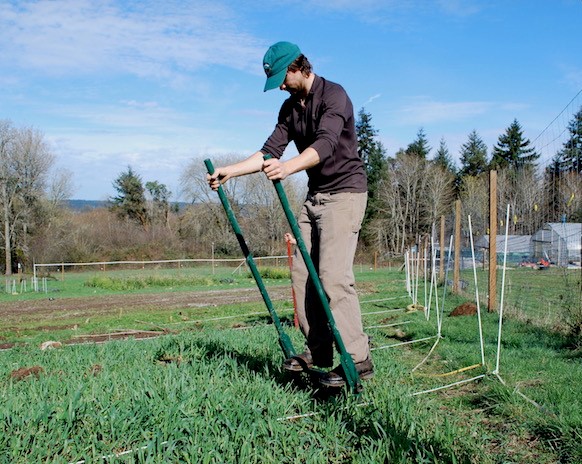 EasyDigging.com is now offering the Meadow Creature Unbreakable Broadfork, a heavy-duty tool can be used in the garden or greenhouse to aerate and turn soil.
The all-steel welded design will last a lifetime and has a manufacturer's warranty to back that up. The Meadow Creature is a durable tool that can be handed down to future generations. It is available in two sizes making it easy for people of all heights to use. Both models are built with longer tines than are available in other brands allowing the user dig and aerate deeper. The Meadow Creature Broadfork is manufactured with unique, comfortable to hold and smooth steel welded handles. These handles have no flex like wooden handles, so all your energy is put directly into moving and aerating the soil and not into the flexing handles. The handle-to-tine weights are well balanced to provide the pivot point that is needed to pull the handles back naturally. This broadfork also has a rounded foot bar, allowing your foot to comfortably to push down at any angle the tool enters the ground, eliminating the need to have the tool in perfect position before every press with your foot.
This Broadfork can also be used for aerating around perennials and orchard trees; loosening root balls to transplant trees and shrubs; carefully removing medium to large rocks, ripping out quack grass, Bermuda grass and other invasive plants; and harvesting root crops.
For more information visit Easydigging.com or email contact@easydigging.com.
Related Articles & Free Email Newsletter
A Secret Bed Building and Potting Soil Recipe
How to Get Started with Organic Gardening in a Greenhouse