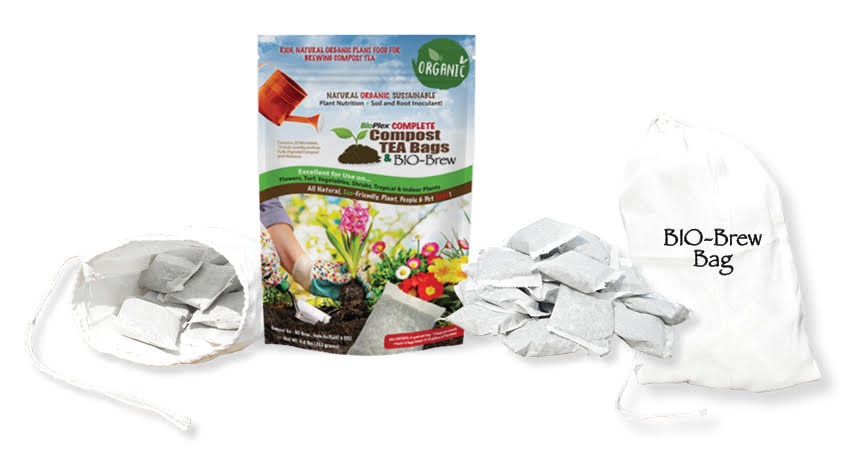 Throughout product research and development, BioPlex Organics places an equal amount of emphasis on environmental accountability as it does plant and soil health. When creating plant products, BioPlex always considers the impact their products have on the ecosystem as a whole. This earth-first philosophy was the driving force behind the creation of BioPlex's Compost Tea Bags & BIO-Brew. The result was an easy-to-use gardening staple designed to accommodate the entire gardening spectrum, from indoor house plants, backyard hobbyists to industrial gardeners. Equally effective applied foliar or as a surface soil root drench for new and/or established indoor and outdoor plants and vegetables.
Compost tea has undergone a facelift during the past twenty-odd years. Simply put, compost tea is the byproduct of diluting compost with water, which results in a brown, tea-colored liquid. The idea of compost tea adding nutrients to the soil is nothing new, but increasing importance is being given to microorganism diversity that thrive in the nutrient-rich liquid. BioPlex's Compost Tea contains 25 different varieties of plant growth promoting rhizobacteria. These live bacteria, including several within the genera Azotobacter and Bacillus, work to naturally convert free nitrogen into useful nutrients for plant growth and soil health. BioPlex's Compost Tea also contains water-insoluble nitrogen, phosphates, iron, and calcium. It uses a molasses substrate to nourish the beneficial bacteria, thereby promoting continued nitrogen conversion.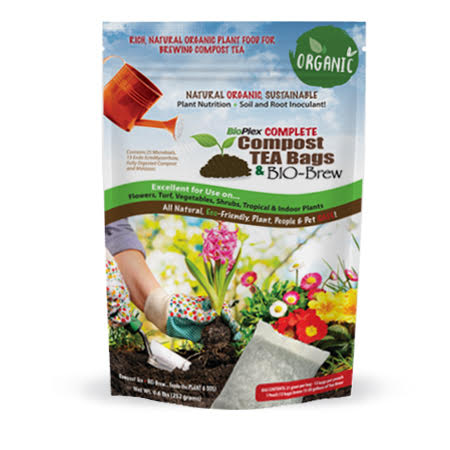 Compost tea bags can be used to create a liquid compost tea, but they also can be used as dry lining within a transplant hole. A single application of the BIO-Brew enriches the soil, feeds the roots, and promotes healthy and natural plant growth. If used during the transplanting process, the BIO-brew bags lower plant mortality through reducing plant stress. Above all, the BIO-Brew is an organic compost. It enriches your plants by enriching the soil with live, beneficial, nitrogen-fixing bacteria. It's safe and sustainable to use across a variety of plant types: indoor house plants, flowers, vegetables, shrubs, and more exotic, tropical plants. It even helps promote healthy turf growth! If you're the type of gardener or grower who worries about soil health alongside plant health, BioPlex's Compost Tea Bags & BIO-Brew is a product worth purchasing.
BioPlex's Compost Tea Bags & BIO-Brew are sold in 2 styles of pouch: 12 x 21 gram and 20 x 50 gram. Bulk pricing is available with the purchase of cases, which contain 20 or 6 pouches respectively. Visit BioPlex's product listing or call 1-800-441-3573 for pricing details. You can also visit their website at Bio-Plex.com.
Related Articles & Free Email Newsletter
Vermicompost Affects on Plants
What Does Being "Organic" Mean?