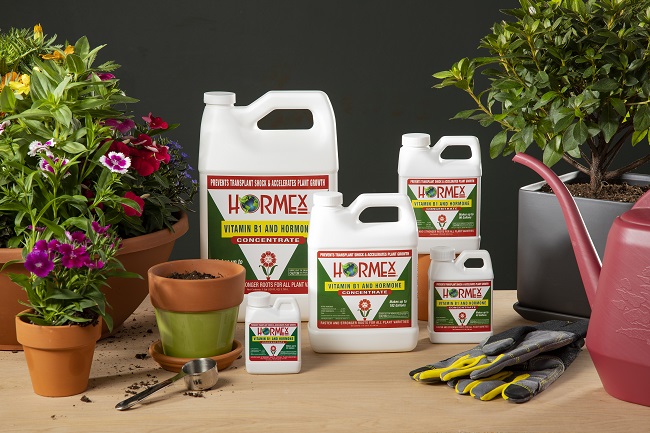 When transplanting existing plants or planting new cuttings, there is always a risk that the plant will not establish roots or that it may go into shock. A transplant is not successfully established until the primary roots have produced sufficient feeder roots on their tips. If a plant fails to regenerate or establish healthy roots, a decline in health will be observable and ultimately can result in the death of the plant. Transplant shock can occur when a plant or cutting is transplanted and unable to properly root into the native soil or growing medium. Transplant shock is most often the culprit of death or decline in newly planted trees and shrubs.
Hormex has produced professional plant products for over 60 years and their proven Vitamin B1 and Rooting Hormone Concentrate provides all varieties of plants with the boost they need to thrive. By providing plants with targeted ingredients, Hormex encourages fast, strong rooting and a smooth, stress-free transplanting process. Hormex also significantly reduces plant loss, resulting in greater yields and overall healthier plants.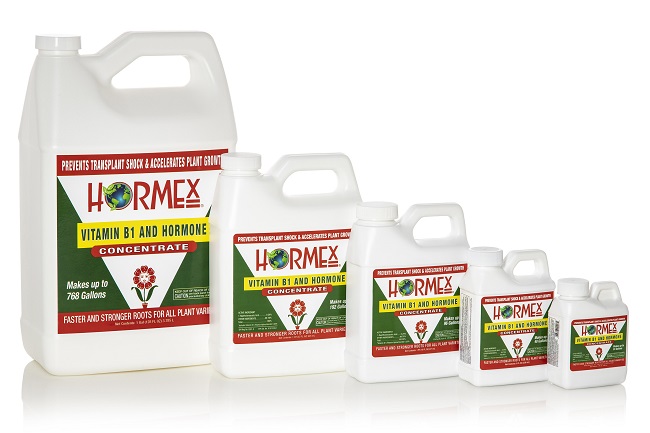 Hormex Vitamin B1 and Hormone Concentrate is a flexible and adaptable tonic that works for transplants, cuttings, and lawns. It is also excellent for hydroponic and aeroponic growing systems (when used alongside your feeding schedule) and significantly improves the system's speed and success. Hormex concentrate sets itself apart from other products by providing auxins (plant rooting hormones) and Vitamin B1 to your plants. This ensures successful rooting or transplantation of your plant or cutting. The proprietary process used across Hormex's product line ensures quality and has made Hormex a staple product for professional propagators.
Ever since the introduction of Hormex Concentrate in 1959, its ability to prevent transplant shock, accelerate growth, and help establish a strong root system has produced amazing results for horticulturalists. Try for yourself and see why so many growers rely on Hormex products.
Hormex Vitamin B1 and Rooting Hormone Concentrate is available for purchase on Hormex's website and on Amazon, as well as many retail and wholesale locations.
For more information please visit Hormex.com or email support@hormex.com with any questions.
For 10% off your next order on Hormex.com, use code: GANDG10
Joshua Nichols is the MyGardenAndGreenhouse.com associate editor.
Related Articles & Free Email Newslettter
Early Growth Fertilizer Regiments for Propagation & Vegetative Stages
Finding the Correct Propagation Technique for Landscape Plants
How to Build a Simple Homemade Plant Propagation System