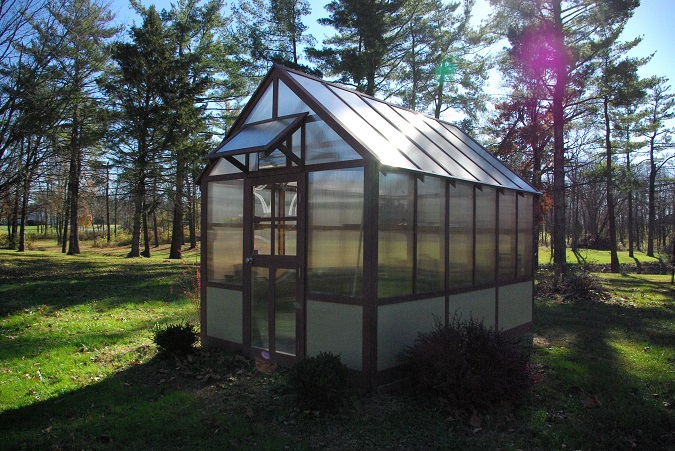 In some ways, greenhouses put up barriers between the natural world and your plants. This has many positives. Climate control, security, advanced hydroponics systems, and many other technical advancements ensure that you get the best yield out of your plants. I have always felt that there is something a little off about the stereotypical greenhouse. Lots of PVC piping, glass, and aluminum make some greenhouses feel entirely separate from the natural life they nurture.
New Frontiers gives greenhouses a more natural feel with their beautiful, hand-crafted, and long-lasting cedar greenhouses. Headquartered in Alton, Illinois, New Frontiers makes greenhouses that are more "cabin in the woods" than "futuristic seed depository". But even though their greenhouses have a more vintage look, their quality and durability are very modern. All New Frontiers greenhouses are constructed to be functional and long lasting. Their aesthetics are simply a great bonus.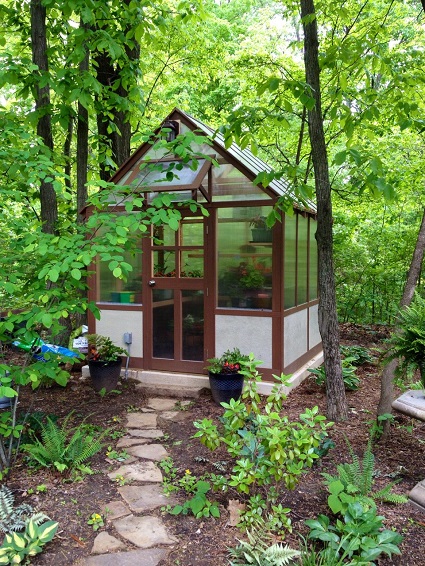 A New Frontiers greenhouse frame is made from clear Canadian Western Cedar which contains natural oils that prevent decay. Cedar is also a better insulator than metal which leads to more stable temperatures in your greenhouse. The exterior of the greenhouse is constructed with one inch AZEK which delivers a maintenance free, like new appearance regardless of what the weather throws at it. AZEK material is impervious to moisture, insects, mold, mildew and has a natural wood look. In combination with a AZEK exterior and cedar frame, a New Frontiers greenhouse stands the test of time and retains its natural beauty.
The base of the greenhouse is made of HardiePanel cement board and sports a stucco finish, which can be painted any color. HardiePanel is designed to last for 50 years against exterior element exposure, and it also protects the greenhouse from lawnmowers and other yard maintenance equipment. If additional insulation is required during winter months, foam can be added to the HardiePanel base. The transparent siding is composed of eight-millimeter twin-walled polycarbonate sheets, the gold standard for commercial and residential greenhouse growing. The polycarbonate sheets diffuse light which prevents your plants from burning, it also has a UV stabilized exterior with a ten-year warranty against yellowing.
New Frontiers designs several sizes of hand-crafted greenhouses, and a full list can be viewed on their website. Each greenhouse contains pre-cut, pre-drilled, and pre-assembled parts wherever possible. The greenhouse door is also pre-assembled. Step by step instructions are included for on-site assembly. Features such as motorized intake shutters, three-speed exhaust fan, thermostat, and necessary conduit fittings are included with the purchase of a New Frontiers greenhouse at no additional cost. A pre-fitted cedar framed shelving kit is offered at an additional cost for an easy way to maximize growing space.
If you are looking to build a greenhouse that insulates well, is weather-resistant, and is aesthetically pleasing, New Frontiers offers premium construction and value for all your growing needs.
Founded in 1978, New Frontiers has been producing cedar garden furniture and greenhouses and home furnishings for over 43 years. You can visit their website at FrontierFurnishings.com or by calling 618-465-8868.
Joshua Nichols is the MyGardenAndGreenhouse.com associate editor.
Related Articles & Free Email Newsletter
How to Create a Plan For Your First Greenhouse
How to Create the Best Location & Orientation for Your Greenhouse
Things to Consider Before Purchasing a Greenhouse