Hanging baskets are popular with customers in the spring. Sales begin in earnest around Mother's Day. When raising plants and early vegetables in a heated greenhouse, baskets can be hung from the ceiling or set in other unused spaces.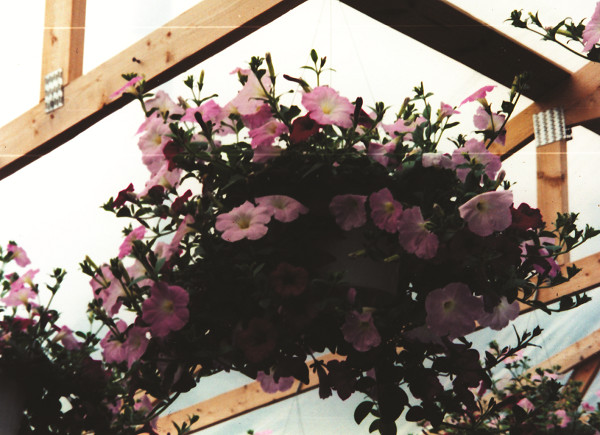 Despite the abundance of hanging baskets available to the public, there is not much variety in types sold year after year. To compete with other sellers, I offer a line of baskets that are not available elsewhere. With some research and careful planning, you can raise hanging baskets that are more original and sometimes yield a higher profit margin. Plugs for baskets can be started from seed in January and February, while cuttings, dormant plants, and tubers can be started directly in the baskets as late as February and March.
Both flower and edible hanging baskets are popular with customers. Instant gardens are increasingly popular with apartment and backyard gardeners. To start you thinking, a few of my more popular varieties are discussed below. You can expand on these ideas and create your own irresistible baskets.
Different types of baskets require different care. To increase customer interest, design a simple care tag for each basket. Be sure the tag includes contact information, so the customer can call you with questions and for additional purchases.
Flowering Baskets
Petunias are sold everywhere in single colors. I usually buy seeds for Wave Purple, Blue, and Misty Lilac and mix the colors, putting two or three colors in a basket. Plants grow so large only one plant of each color is required, but the mixed colors are more popular. Putting more than one plant in a basket, of the same or mixed colors, fills out the basket in a shorter period and provides a fuller basket in general. My favorite basket uses two Purple Wave and two Misty Lilac Wave plants, alternating them by color. The basket is very full and stunning. Its large size makes it difficult to transport without damage, but it sells easily from the greenhouse.
Wave petunias are so carefree they dominate the petunia basket market, but some other petunias do well in baskets or containers. My favorite is the Purple Pirouette double, which is stunning and smells heavenly. They require deadheading but are so beautiful some of my customers order them in advance.
Nasturtiums have become my best-selling flowering basket. I plant Gold and Tangerine Whirlybird nasturtiums in 1204 flats, two seeds to a cell. Three weeks later I transplant seven cells into a 10" hanging basket with one in the center and the other six evenly spaced around it. Be careful not to disturb the roots or nasturtiums will not transplant easily. In some baskets I put a tangerine plug in the center and alternate three gold and three tangerine plugs around it. In others I plant seven tangerine plugs. In the rest, only gold plugs are planted. Other colors can be used but choose colors that are bright. The softer colors don't sell as well in baskets.
In addition to being beautiful, nasturtiums are edible, and the leaves, flowers, and crunchy seed pods are tasty in salads. Replacing the center plug with parsley will make the basket fuller in the center and provide variety to the customer's salad.
Nasturtiums prefer drier and less fertile soil than most flowers. Care tags are important for customers, who routinely over-water and over-fertilize them. Once the vines grow long and look straggly, they can be trimmed even with the bottom of the basket. They will re-grow and continue to produce.
Edible Baskets
Tomatoes, available early, are always prized. Tumbler Hybrid is a variety bred for pots and hanging baskets, which also has exceptional flavor. I plant the seed in early February and transplant them into hanging baskets by the end of March. I tie the center stem to an 18″ bamboo stake, which is tied to the handle on the hanger. By late April and early May, tomatoes are setting. Many baskets sell before tomatoes ripen. Once tomatoes are ripe, I allow potential customers to sample them before buying. The flavor sells them. For earlier ripe tomatoes, germinate seeds earlier. People will buy tomato baskets in April, if tomatoes are beginning to ripen.
Stems will be loaded with tomatoes, weighing them down. Care tags should include a fertilizer program and recommend tying strings from the branch to the stem to help support the heavy stems.
Cucumbers will vine over the side of hanging baskets producing flowers and fruit. Select a bush variety that is bred to grow in a smaller space. My favorite is Ultra Pak. I plant seeds in flats, one to a cell, early in March and transplant three into each basket when they are about three weeks old. Care must be taken not to disturb the roots. Cucumber fruits should not be allowed to grow longer than about 6″ or the weight of the fruit will cause brittle vines to break, especially during transport.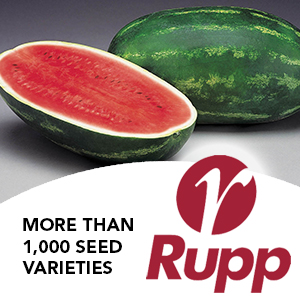 The cost of the seed is small, providing a good profit margin. Care tags should caution about over-watering and explain how to identify and control the cucumber beetle.
Strawberry baskets loaded with blooms and berries are nearly irresistible. I use Tristar, a day neutral variety that produces berries on un-rooted runners, which cascade down the sides of the basket. They are planted while dormant, three in a 10″ basket. I select the largest plants for hanging baskets and use the smaller ones for 4½" pots. If I want to use the smaller plants in baskets, I remove the first cycle of blooms allowing plants to grow larger, before selling them filled with blooms and berries.
By special request, my strawberry plants arrive early in March. Unless you request them earlier, nurseries will send them at the normal planting time for your area, which may be four to six weeks later. Care tags need to recommend a regular fertilizer program and explain how the basket with its many runners can be planted in the fall for an instant berry patch the following spring.
Herbs make aromatic baskets. Parsley, rosemary, Greek oregano, thyme, and chives can all be grown in baskets. Herb varieties grow at different rates, so mix varieties that grow at about the same rate. To include slower growing herbs like rosemary and chives, you can plant the seeds several months earlier than the other herbs. Then they will be about the same size when transplanted into a basket. Nasturtiums can be added to herb baskets for variety and color.
Mints can be grown for garnishes and tea. They grow faster than most perennial herbs, so they are likely to crowd out the roots of slower growing perennial herbs. In its own basket, mint vines will fill out the basket and trail over the sides.
Care tags should include water and fertilizer requirements. Listing each herb's common uses will increase customer interest.
Gini Coover is the author of The Natural Greenhouse, Growing Plants and Food for Profit. She has grown greenhouse plants and vegetables for over 30 years.
Related Articles & Free Email Newsletter
Cold Frame Greenhouses for an Early Start to Spring Gardening
Creative Retail Contracts Help Sales
How to Make More Profit in the Same Amount of Growing Space
Subscribe to our Free Email Newsletter