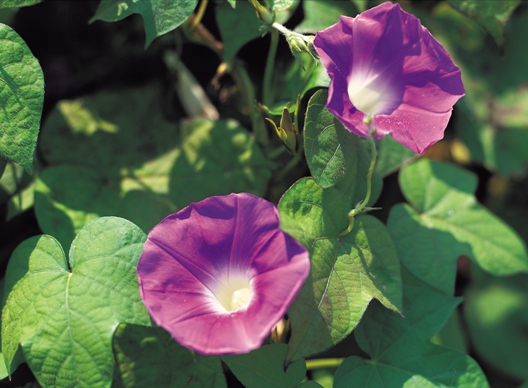 Annual climbing vines are a great way to add a splash of color to your garden. Most annual climbers grow quickly, feature colorful, showy flowers, and then die off and can be easily removed in the fall. Planting an annual vine is also a great way to test out the idea of having a permanent climber in a certain location. If you like having a climber in that spot after a season or two, you can go ahead and plant a perennial climbing plant that will come back year after year.
The following is a list of the top 10 annual climbing vines you should consider for your garden or landscape.
1. Sweet Pea
Sweet pea is a very popular climbing plant that comes in literally hundreds of varieties to choose from. Sweet pea does not grow extremely large; it will climb to approximately 6 feet tall in a season's time. It does prefer cool temperatures and it needs plenty of moisture to thrive. Sweet pea climbers will reward you with colorful blooms all summer long.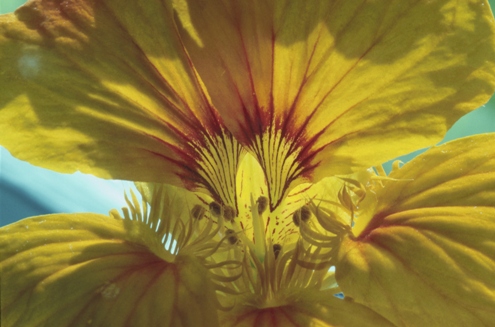 2. Nasturtium
Nasturtium is a good vining choice if you want to cover a trellis, pergola, or arbor. Nasturtium is considered the climber of choice for black thumb gardeners; it literally thrives on neglect. It will grow in poor soil conditions and doesn't require a lot of sunlight or moisture. Nasturtium will bloom with beautiful and fragrant flowers in the summertime.
3. Morning Glory
Morning glory is a beautiful climbing plant that flowers profusely during the morning hours. The color of the blooms will vary, depending on the variety planted. Morning glory does require a sunny location, though it will grow well in almost any soil type.
4. Moonflower
Moonflower is a great climber for screening purposes. It grows very rapidly and blooms profusely in poor soil conditions. Interestingly enough, if you plant moonflower in soil that is too fertile, it will not produce blooms. Moonflower vines are known for their large white flowers that bloom during the nighttime hours.
5. Black-eyed Susan
It's true that black-eyed susan is a ground flower, but it is also available in a vining variety that is good for use as a ground cover. While it is not a good choice for growing up trellises or other garden structures, black-eyed susan vines are very striking when planted in hanging baskets and allowed to drape down. One thing to keep in mind, black-eyed susan does require a long growing season, and is not recommended in colder climates. Temperatures below 50 degrees will kill it quickly.
6. Cardinal Climber
Cardinal climber is akin to morning glory, coming from the same botanical family. Like its cousin, cardinal climber is a vigorous grower, potentially growing up to 20 feet in a single season. Cardinal climbers' two inch red flowers will bloom all summer long.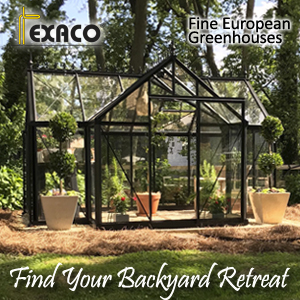 7. Balloon Vine
Balloon vine is considered to be an annual vine in the north, but is sometimes grown as a perennial in warmer, southern climates. It does require sun and is ideal for use as a screening plant. Balloon vine features small, almost unnoticeable white flowers.
8. Hyacinth Bean
Hyacinth bean, sometimes mistaken as sweet pea, is another very vigorous climber, often scaling 20-30 feet in a growing season. There are many varieties available, and this is a good choice for covering large trellises or fences. Hyacinth blooms with purple or white flowers in the summertime.
9. Dutchman's Pipe
Dutchman's pipe is native to the eastern United States, and can easily grow to cover an area 15 feet tall by 20 feet wide in one growing season. It does not boast showy flowers like some other climbers; however, it grows easily, even in the shade. Be sure to give Dutchman's pipe plenty of space, as it will crowd out other plants that are too close.
10. Climbing Snapdragon
Climbing snapdragons are an attractive choice for a trellis cover, and can also be used to drape from window boxes or hanging baskets. They will bloom from late spring through the summer with flowers that resemble a traditional snapdragon's blooms.
Ellen Bell works for a retail website that offers many home and garden products.
Related Articles & Free Email Newsletter
Deciding Between a Lean-To or Attached Greenhouse
Dried Herbs Require Little Work and Offer a Great Reward
Subscribe to our Free Email Newsletter